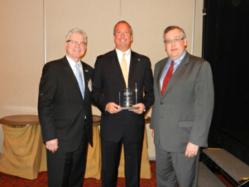 Chicago, IL (PRWEB) February 01, 2013
The Middle Market Thought Leader Award honors individuals who have made a meaningful contribution to middle market M&A through the publication of works that promote research and higher standards of excellence. This award recognizes those in the M&A community who create and advocate ideas that add value to the industry.
"The streamlined option for capital that unitranche offers is a welcome relief to a stressed economy and has the potential to add enormous value to the middle-market business serving as the engine of the recovery. This year's winner has made an enormous impact in the middle market M&A community through his comprehensive examination of this new alternative for financing acquisitions of mid-sized companies," said Steve Brady, a Partner in Grant Thornton's Transaction Advisory Services practice and a member of this year's selection committee.
Upon being announced as the winner, Mr. Koenig commented, "Receiving the Middle Market Thought Leader Award is a real honor and I thank AM&AA and Grant Thornton, both, for creating this opportunity to showcase all the professional achievements of this year's nominees. I thank you all for this recognition and am looking forward to continuing to produce work that will inform and support the members of the AM&AA."
Grant Thornton was the premier sponsor of the 2013 AM&AA Winter Conference, The Middle Market: Our World of Opportunity in 2013. The event featured two full days of education from industry experts on issues related to the current M&A climate. In addition, the conference included an enhanced and extended, day-long Transaction Exchange. Hundreds of leading intermediaries, investment bankers, attorneys, private equity professionals, CPA's, business advisory firms and corporate development professionals participated.
About AM&AA
The Alliance of Merger & Acquisition Advisors® (AM&AA) is the premiere International Organization serving the educational and resource needs of the middle market M&A profession. Formed in 1998 to bring together CPAs, attorneys and other experienced corporate financial advisors, AM&AA's 900+ professional services firms – including some of the most highly recognized leaders in the industry—draw upon their combined transactional expertise to better serve the needs of their middle market clients worldwide.
AM&AA members represent sellers and buyers of businesses ranging from $5 to $500 million in transaction value. Their services are seller representation, buyer representation, due diligence, accounting, financing, business valuation, tax planning, legal, strategic advisory, and many other transaction services.
About Grant Thornton LLP
The people in the independent firms of Grant Thornton International Ltd provide personalized attention and the highest quality service to public and private clients in more than 100 countries. Grant Thornton LLP is the U.S. member firm of Grant Thornton International Ltd, one of the six global audit, tax and advisory organizations. Grant Thornton International Ltd and its member firms are not a worldwide partnership, as each member firm is a separate and distinct legal entity.
In the U.S., visit Grant Thornton LLP at http://www.GrantThornton.com.
About Monroe Capital
Monroe Capital LLC is a leading provider of senior and junior debt and equity co-investments to middle-market companies in the U.S. and Canada. Investment types include unitranche financings, cash flow and enterprise value based loans, acquisition facilities, mezzanine debt, second lien or last-out loans and equity co-investments. Monroe Capital prides itself on its flexible investment approach and its ability to close and fund transactions quickly. Monroe is committed to being a value-added and user-friendly partner to owners, senior management and private equity sponsors. To learn more about Monroe Capital LLC, visit http://www.monroecap.com.