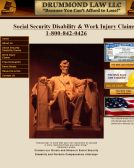 Over 35 years of experience trying cases in Central & Southern Illinois, St. Louis, Missouri and Southern Missouri gives us a unique perspective on the law and the Judges who interpret it.
Chicago, IL (PRWEB) February 04, 2013
Drummond Law LLC was awarded the "Best of the Best" designation for excellence by Follow Media Consulting, Inc. in the category of Illinois Injury Attorney. This award signifies the continued commitment and dedication of the areas best in legal services in disability and workers injury claims.
The Drummond Law office was founded by Pete Drummond in 1976. After finishing his undergraduate work at Knox College in Galesburg, IL, Pete Drummond attended the University of Illinois School of Law, graduating in 1973. He became the first law clerk in the 4th District Appellate Court under the then new clerk program that had recently been instituted.
Drummond Law has over 35 years' experience protecting the rights of those who are entitled to disability and workers injury claims. Their firm has developed forms and procedures that increase a Claimant's chance of winning their case. Drummond Law also has over 33 years of experience as Social Security attorneys. They have already tried and won thousands of cases similar to this matter. They know the legal process and also makes appeals on cases to higher courts including the Federal and State court. To know more on their services, visit their website at http://drummondlawllc.com/ or call them at 800 842 0426.
About Follow Media Consulting, Inc.
Named one of the best SEO companies by Jonas Marketing, Follow Media Consulting, Inc. is a rapidly growing worldwide firm of SEO, Social Media, and Mobile Marketing Professionals. Follow Media Consulting, Inc. headquarters is located in Richmond, VA. However, our professional team is networked across the world, with regional offices across the United States, in the United Kingdom, Canada, Australia, France, South Africa, the Philippines, and India.