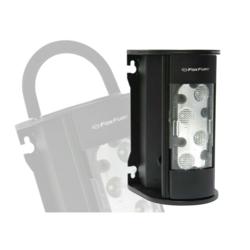 The Nomad NOW is a powerful lantern and welcome addition to the Nomad family of Area-Spot lights. We hope that it helps keep people safe and well illuminated
Vista, CA (PRWEB) February 20, 2013
FoxFury Lighting Solutions today announces the formal release of the Nomad NOW Area-Spot light. The rechargeable 2,500 torch lumen Nomad NOW functions as either an area light or spotlight that can be held by hand, hung on a rail, placed on a flat surface or mounted to a tripod or wall.
Traditional portable lights function as either an area light or spot light. The Nomad NOW is a premium LED lantern light that serves as both an area light and spotlight. This is accomplished via a sliding diffuser lens. Sliding the diffuser lens upward converts the Nomad NOW into an wide angle area light. Sliding the lens downward results in focused spot lighting.
The Nomad NOW therefore does the job of two lights in one and provides versatility should your lighting needs suddenly change, which is very helpful for first responders and industrial professionals. Unlike the Nomad Prime and 360, the Nomad NOW has no 20 second set up or take down time and therefore provides light instantly.
The Nomad NOW is portable (weighs 4.3 lbs), rechargeable (powered by a Li-ion battery system) and can be taken anywhere quickly. The NOW provides 3-24 hours of battery life and features a battery level indicator, which changes from green to orange to red as the battery drains.
The light can be held by the carrying handle, placed on a flat surface or mounted to a wall or tripod. A camera can be mounted to the top of the NOW using the provided ¼-20 threaded insert (standard mount thread).
"The Nomad NOW is a powerful LED lantern and welcome addition to the Nomad family of Area-Spot lights. We hope that it helps keep people safe and well illuminated," said Mario Cugini, CEO of FoxFury.
The Nomad NOW will be on display at the Firehouse World conference show this week in San Diego.
About FoxFury Lighting Solutions:
FoxFury Lighting Solutions creates unique and cutting edge lighting products that reflect the needs of our customers, who demand quality and dependability. FoxFury is best known for its niche LED headlamps designed for specific markets including Fire, Industrial, Hazardous Area, Law Enforcement, Forensics and Recreational. FoxFury was formed in 2003 and operates out of Vista, CA USA. You can follow FoxFury on Twitter @foxfuryLED