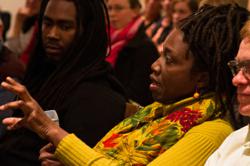 How do gender and race play into the art we make, the art we collect and exhibit, and the way we talk about the merits of a work of art?
Philadelphia, PA (PRWEB) February 04, 2013
The Pennsylvania Academy of the Fine Arts (PAFA) hosts a free Public Forum on Gender and Race in Contemporary Art on Sunday, February 10, 4-6 p.m., in the Samuel M. V. Hamilton Building, located at 128 North Broad Street, Philadelphia.
Sparked by the groundswell of dialogue and protest in response to New York Times critic Ken Johnson's preview of the exhibition The Female Gaze: Women Artists Making Their World (on view at PAFA through April 7) and his review of Now Dig This!: Art and Black Los Angeles 1960-1980 (on exhibit at MoMA PS1 through March 11), PAFA's forum brings together members of the art community and the public for a lively debate around the following questions:
What role does identity politics play in the contemporary art world? How do gender and race play into the art we make, the art we collect and exhibit, and the way we talk about the merits of a work of art?
Panelists include Ken Johnson, New York Times Art Critic; Kimberly Brooks, Artist and Huffington Post Art Editor; Njideka Akunyili, Artist; and Joyce Kozloff, Artist. University of Pennsylvania Associate Professor of American Art, Gwendolyn DuBois Shaw, moderates the forum.
"This public discussion demonstrates the continuing importance of the arts as a means of exploring fundamental cultural issues in America--in this case, the ongoing and evolving roles of gender and race," says David R. Brigham, PAFA's President and CEO.
In his New York Times preview of The Female Gaze published November 8, 2012, Johnson wrote:
"A young woman embarking on an art career now has a better chance of succeeding than her grandmother did. But the day that any woman earns the big bucks that men like Jeff Koons and Damien Hirst rake in is still a long way off. Sexism is probably a good enough explanation for inequities in the market. But might it also have something to do with the nature of the art that women tend to make? Anyone with a theory about that will have a good opportunity to test it at the Pennsylvania Academy of the Fine Arts, where 'The Female Gaze: Women Artists Making Their World,' a show of works by about 150 women, opens on Saturday [November 17, 2012]."
An online petition in response to Johnson's writings was signed by over 1,600 people, including artists Glenn Ligon, Kara Walker, Louise Lawler and Trenton Doyle Hancock, as well as art historian Miwon Kwon, and artist/critic/curator Robert Storr. The petition stated:
"Mr. Johnson suggests that marginalized groups' lack of success is due to their own failures and not those of the 'predominantly white high-end art world.' In doing so, his texts read as validations of stubborn inequities. Johnson replays stereotypes of inscrutable blackness and inadequate femininity in the guise of serious inquiry, but that inquiry never happens."
PAFA's forum offers an opportunity to constructively discuss the larger social issues and implications of--as well as the potential cultural bias within--art criticism, while giving the public a chance to directly engage with some of the prominent figures in both the contemporary art world and in arts journalism.
In addition to a dedicated question-and-answer portion during the forum, guests are also encouraged to join the conversation by providing feedback and asking questions using Twitter with the hashtag #PAFAforum.
###
Founded in 1805, the Pennsylvania Academy of the Fine Arts (PAFA) is America's first school of fine arts and museum. A recipient of the 2005 National Medal of Arts presented by the President of the United States, PAFA is a recognized leader in fine arts education. Nearly every major American artist has taught, studied, or exhibited at the Academy. The institution's world-class collection of American art continues to grow and provides what only a few other art institutions in the world offer: the rare combination of an outstanding museum and an extraordinary faculty known for its commitment to students and for the stature and quality of its artistic work.