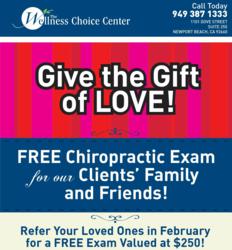 Most of our patients come to us because they've tried everything else and aren't willing to surrender to drugs and invasive surgery. -Dr. Nona Djavid
Newport Beach, CA (PRWEB) February 01, 2013
In honor of 'Heart Month', Wellness Choice Center, Orange County's premier chiropractic and wellness facility, will be offering free evaluations for weight loss and corrective care to patients throughout the month of February. This is the center's annual opportunity to promote alternative treatment options for patients with chronic conditions and those who are at risk for heart disease and diabetes. The center specializes in structural and postural non-invasive and non-surgical spine correction, as well as nutritional counseling and weight loss.
"We are one of only six chiropractic offices in Orange County that practice spinal Correction," says Dr. Nona Djavid, founder and lead chiropractic physician at Wellness Choice. "Most of our patients come to us because they've tried everything else and aren't willing to surrender to drugs and invasive surgery. We also see patients who want healthy and nutrition-based weight loss that works. Our patients lose on average 3 to 7 pounds per week."
According to the American Heart Association, between 60 to 70 percent of Americans are overweight or obese. In 2012 alone, Wellness Choice Center's patients lost more than 5,000 pounds of fat.
Interested parties can contact the Wellness Choice Center at 949-387-1333 to learn if they qualify for their physician-monitored weight loss protocol or for advanced chiropractic care. Only a limited number of spaces will be set aside for these examinations in February.
About Wellness Choice Center
Wellness Choice Center is a state-of-the-art facility founded in 2007 in Newport Beach, CA. The center provides the latest and most researched techniques on postural and spinal correction. The chiropractic team of doctors, led by Dr. Nona Djavid provides a custom, effective, and well-rounded program to focus on the root cause of pain and discomfort through corrective care to ensure long-term success.
Wellness Choice also practices a holistic approach to care, through fitness, nutrition, and lifestyle counseling. They work with a network of healthcare professionals to provide the best and most comprehensive treatment plan. From in-house sports medicine specialists, to certified massage therapists and personal trainers, the team of experts is dedicated to helping regain youth, health, and vitality. For more information about Wellness Choice Center visit http://www.wellnesschoicecenter.com/.