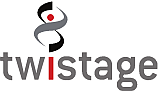 Twistage is a market leader in terms of technology and services.
New York, NY (PRWEB) February 01, 2013
Twistage, a leading rich media framework provider, announced that Frost & Sullivan has recognized the company as "the OVP market's hot company to watch." In a review of the top 19 companies in the market and a broader group comprising 80 global vendors, Twistage was called "the Porsche of OVP vendors."
The Twistage framework was lauded for its digital media management capabilities, its ability to integrate tightly with existing infrastructure, and its flexibility. Meanwhile, the company's product direction and its success in forming strategic partnerships were recognized as key factors in being singled out above all others.
"Twistage is a market leader in terms of technology and services," said Loren Johnson, senior analyst, Frost & Sullivan. "It has carved out a unique market niche and built an exceptionally loyal customer base that showcases its dedication to online media management." Johnson noted that the company's sophisticated customers tend to have very specific technology and service needs, sometimes selecting Twistage after first using a competitor's solution or building their own implementation.
The recognition may signal an inflection point for the company, which has kept a decidedly low profile despite several years of sustained profitability. "For years, we've been something of an insider secret," said Twistage CEO David Wadler. "Our sole focus has been on delivering absolutely the best product to our customers, an increasing number of which are large enterprises. Last year, our R&D spend outpaced our marketing spend by more than a hundred to one, so it's a pleasant surprise to receive such public accolades."
According to the Frost & Sullivan report, there were several key areas where Twistage separated itself from the pack:

Rather than an all-in-one solution, the company provides a digital media framework that is broadly adaptable and configurable, "filling in gaps and completing media management value chains."
Twistage does not offer basic or introductory solutions, but rather provides a broad suite of technologies that go "far beyond basic OVP capabilities" and specifically address larger corporate media management needs. The company's high end clients typically have very specific requirements that make them a good match for the Twistage feature set.
Because it specializes in the enterprise and B2B markets, Twistage allows its customers to have greater control over where and how content is distributed.
The company has built a product that is designed for and sold into engineering teams at client companies instead of marketers. Typically, its customers are technology experts who are focused on the bleeding edge of online video and digital media management.
About Twistage: Twistage is the leader in enterprise digital media management, delivering web, mobile, and connected TV solutions including Online Video Platform (OVP), audio and image management, cloud-based transcoding, workflow automation, and more. Already the platform of choice for many leading enterprises and digital publishers, Twistage enables organizations to drive return on existing investment and accelerate their time to market.