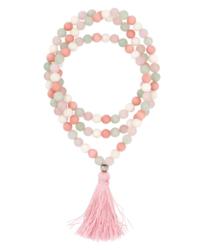 Traditionally, malas consist of 108 beads, although they are commonly seen in "half-sizes" of 54 beads or wearable Mala Bracelets of 27 and sometimes 21 or 24 beads.
New York, NY (PRWEB) February 01, 2013
Buddha Groove, the New York based online retailer of spiritual, inspirational and motivational goods, has launched its newly expanded line of personal meditation malas also known as prayer beads. The expanded line will include brand new varieties of gemstones, sizes, and colors and will largely include malas that have been designed and handmade in the USA.
Buddha Groove's recent expansion is largely reflective of the American interest in Eastern art forms, meditation techniques and relaxation practices. The mala, which is an Eastern version of traditional rosary beads, is one of the easiest ways to begin the practice of meditation, and it requires no prior knowledge of traditions, prayers or rituals.
The Buddha Groove team explains that each meditation mala has two primary intentions. The first is to create the sensation of moving one's fingers through the beads. This one-by-one counting motion transmits information from the fingertips to the brain and relaxes the body by initiating a steady, repetitive physical motion (similar to the idea of squeezing a stress ball).
The second intention, explains Buddha Groove, is to use this counting motion to initiate a vocal repetition of a chosen mantra, which can be repeated with each bead count. The idea is to generate positive momentum by repeating the word dozens, hundreds, even thousands of times as one moves through the individual beads. The chosen mantra can be anything- some practitioners use "Om," while others choose "peace" or "love"- and the mantra can be spoken, whispered or sung.
Meditation malas can be made from wood, plant seeds, animal bones, gemstones and precious metals. Traditionally, malas consist of 108 beads, although they are commonly seen in "half-sizes" of 54 beads or wearable mala bracelets of 27 and sometimes 21 or 24 beads. It was believed that the number 108 represented the coordinates of the spiritual center of the universe, which is why many mala creators remain faithful to that count.
Because of the varieties of colors and materials available, malas are often seen as a personal expression of mood, temperament and personality. In introducing its new line of USA-designed and crafted meditation malas, Buddha Groove hopes to make finding the perfect combination of color and style a pleasing journey for each individual seeker. The new, revamped meditation mala section of the Buddha Groove.
Buddha Groove, based in New York, is an online store with an unparalleled line of products that serve to encourage and develop individual spirituality. This collection of inspirational gifts and accents originates from elements of spirituality, yoga, meditation and eastern philosophies, and is intended to promote mental well-being and healthy mindfulness for every person, regardless of spiritual background.
For more information, please visit Buddha Groove