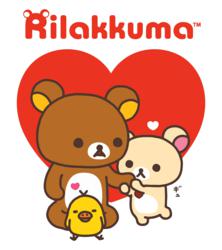 For the first time Japan's most popular character will hit the shelves in USA toy retailer Puzzle Zoo
Santa Monica, California (PRWEB) February 01, 2013
Rilakkuma, one of Japan's most popular characters will make its U.S. debut on Valentines Day 2013, at Puzzle Zoo toy stores in Costa Mesa, and Santa Monica, California.
Rilakkuma is a combination of the Japanese pronunciation of relax and the Japanese word for bear, (kuma) produced by San-X, a company that specializes in the creation, production and marketing of goods featuring "cute" characters for over 80 years. The New York Times has profiled Rilakkuma describing it as "a huge hit in Japan." In surveys, Rilakkuma ranked as the No.1 most popular character in consumer products in Japan .
The Rilakkuma bear character enjoys relaxing and lounging around while sharing a stress free lifestyle with rest of the world!
The USA based, family owned and operated Puzzle Zoo toy stores are no strangers to hot trends. Twenty years ago Puzzle Zoo was the first toy store in the Southern California market to introduce the wildly popular Power Rangers toy phenomenon at its flagship location at the Third Street Promenade in Santa Monica, CA.
The USA launch of Rilakkuma products will be accompanied by custom displays, a "meet-n-greet" with Rilakkuma as well as free gift bags. Free finger puppets will be given to patrons purchasing any San-X products (while supplies last).
The Japanese sensation Rilakkuma can be experienced at Puzzle Zoo's flagship store on the 3rd Street Promenade in Santa Monica and at South Coast Plaza in Costa Mesa.