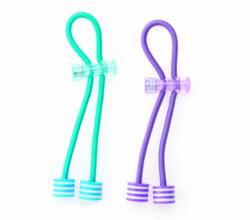 We received many requests for a younger product with child-friendly pricing
(PRWEB) February 05, 2013
Pulleez Intermational announced the launch of the 'Pulleez Pony Girl' collection today in response to the brand's popularity among young fashionistas familiar with the brand.
The moderately priced line is intended for girls over three years of age and offers a simple solution to putting hair up in a ponytail.
"Women were telling us that their daughters were wearing their Pulleez ponytail holders," said creator Diana Wright, "and we received many requests for a younger product with child-friendly pricing."
The initial styles, in sky blue and lavender acrylic, are currently available on the company website and on amazon.com. More styles and colors will be added to the line in the coming months.
A former fashion show producer, Diana was frustrated with the ponytail holders on the market. She set out to create a comfortable hair accessory that looked good enough to appear on the runways.
Diana brought her ponytail creations to NY Spring Fashion Week 2012 where they were an instant hit with both designers and models. Many of the models wore the pieces on their wrists as bracelets. Diana was encouraged by the response and decided to build a brand to meet the demand.
Pulleez ponytail holders are secured by sliding hair through the elastic once. The wearer then squeezes the piece while pulling the elastic to a desired tightness. There is no need to wrap the elastic multiple times as with traditional elastics. To release the ponytail holder, simply squeeze to open the holes and slide it out. The patented design completely eliminates hair snagging.
Pulleez ponytail holders retail at Henri Bendel's, Amazon, folica.com and select boutiques nationwide. Pulleez Pony Girl Acrylic Ponytail holders retail for $7.98. Please visit http://www.pulleez.com for more information.