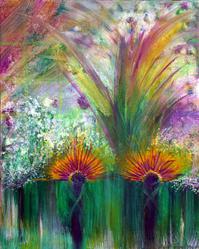 Wake Forest, NC (PRWEB) February 01, 2013
Experience a Local Art Walk in the Historic Downtown District of Wake Forest, NC. Each second Friday this small town block comes alive with artists, music and delicious food. On Friday February 8th, be sure to stop in and visit The Art Gallery inside The Cotton Company on South White Street. Local artist Michael Morrison will be displaying a delightful exhibit of abstract creations and landscape paintings.
Born and raised in Texas, Michael learned art by trying and experimenting. With art in his family, it was only natural for him to pick up a paintbrush and to imitate life on the canvas. He became established as an artist in his early 20's, but took a break until recently. His work has been shown in and sold in galleries in Texas, Florida, and internationally in locations like the Virgin Islands. You can see his vast traveling experiences displayed prominently in his work.
Michael works mostly in acrylic on canvas and gesso board, concentrating mostly on landscapes and abstracts. After his wife's two bouts with cancer, he has taken an interest and uses the topic as inspiration in some of his pieces. He credits the willpower of his wife and her positive attitude as in inspiration in his paintings. He says, "I use bright colors in my painting to create a bold statement". Michael currently lives in the Raleigh area, and is passionate about his art, sustainability, the environment, and horticulture.
The Cotton Company is a Boutique Marketplace in the heart of Wake Forest's Historic Downtown District. For the Art After Hours celebration we host an artist reception, from 5:30-9pm, inside The Gallery. Enjoy refreshments and a wine tasting while meeting our Featured Artist for February Michael Morrison and other local artists. Meet Michael and discover how the journey of his life translates into vibrant art! The exhibit will hang all month from February 4th – March3rd. The Cotton Company is home to a variety of local artists including painters, potters, photographers, even wood and glass masters. Enjoy shopping again.