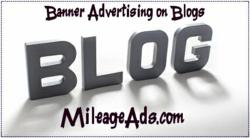 Houston,TX (PRWEB) February 09, 2013
With the popularity of Banner Ads on blogs and sites and Websites being called as web properties and many monetization techniques being announced on regular basis, every publisher's goal is to earn more with their website. There are plenty of ad services out there, but many people do not experience great success with them. MileageAds.com was created to change that.
MileageAds.com highlights the fact that it has cost per click and cost per action-based terms, which according to them, means, "More buck for the blog!" While many publishers may know (or be able to easily figure out) what cost per click means, cost per action is a little more detailed.
Cost per action networks are often referred to as Affiliate Networks. Cost per action advertising charges advertisers and pays publishers based on how many actions are completed on a website. These actions may include downloads, purchases, subscriptions, or a number of other actions depending on what company the advertiser is. Publishers that succeed extremely well with cost per action advertising are publishers who match their advertising very well with the content.
For example, a major fashion blog with cost per action advertising from MileageAds.com will do very well with a fashion advertiser. They might not do so well though if their cost per action advertiser was a construction company. MileageAds.com will work to ensure that their publishers have content that will help both the advertiser and the publisher succeed, whether it is a cost per click or cost per action setup.
The publisher guidelines to be in the MileageAds.com network include site design, amount of visitors and traffic, as well as update frequency – how current the website is and how often is new information added.
Publishers that are in the MileageAds.com network will have the option of multiple payment methods. They can choose to get paid through either bank deposit or through PayPal's processing system; publishers can choose their payout method based on their preference.
Visit Mileage Ads online at http://mileageads.com/ to learn more about how publishers can earn more through their network right away. To contact MileageAds.com, use their online form to get in touch.
About MileageAds
MileageAds.com provides individuals, entrepreneurs and small businesses with affordable and extremely effective online marketing solutions.
It was developed to provide advertisers with an affordable online marketing solution that brings tremendous results via CPC and CPA advertising. MileageAds.com also offers opportunities for publishers, who can earn a tidy sum by displaying advertisements via their profitable and easy-to-integrate publisher program. MileageAds.com maintains a commitment to customer satisfaction. And the Mileage Ads team works hard to ensure that advertisers and publishers alike are satisfied and that their questions are answered in a timely and efficient manner.