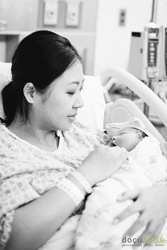 Los Angeles, CA (PRWEB) February 01, 2013
Jina Park, CEO and founder of PLUSH and Plushlitttlebaby.com, is happy to announce the newest addition to the PLUSH family, Alexandra Park, born 8.13 pounds and 21 inches on December 25, 2012.
Alexandra Park is already causing quite a stir in the baby juvenile industry, as she has clear indications of her favorite items and recommendations for newborns. Alexandra loves to sleep in the cozy and extremely convenient Babyhome Dream cot. Due to portability, most of her first month was spent in there. Her two older brothers love their Britax Frontier car seats, which allows all of Jina's three children to sit in a row with her new Bob B-Safe Infant car seat. The Bob B-Safe Infant car seat allows her to enjoy her rides, especially when paired with the Bob & Britax Stroller Travel System. Alexandra's other favorite strollers include Orbit Baby G2 and Inglesina Pram.
As for accessories, Alexandra recommends her favorite Petunia Pickle Bottom Boxy Backpack, Bebe Au Lait nursing covers, Little Giraffe Luxe Blanket, and aden + anais bamboo blankets. At home, Alexandra wears her favorite giggle Better Basics newborn apparel, and socks by Trumpette and Etiquette. She enjoys being bathed in her Puj Flyte Tub, and her nursery has the Summer Infant Baby Touch Video Monitor, Ubbi Diaper Pail in pink, and changing area furnished by Pottery Barn Kids. Alexandra especially loves her changing pad mattress by Simmons.
In the delivery room, Alexandra's dad wore his scrubs from DaddyScrubs, which made him feel extra special that day, too.
Attendees of the upcoming PLUSH 2013 show, June 7th – 9th, 2013 at Hyatt Regency Century Plaza, in Los Angeles, CA will be able to meet the darling Alexandra, as she will be in attendance outfitted in her finest PLUSH picks and reviewing all the latest products on the market for her testing and approval.
About PLUSH
PLUSH is a baby and toddler trade show dedicated to all the posh and eco-conscious retailers and parents who are continually setting the next big trend. Unlike other juvenile shows in the industry, PLUSH sets itself apart by being one step ahead, and selecting vendors that are worth the time and consideration. Jina Park uses endless research on what today's modern parents are seeking and finds the best, most innovative, eco-friendly, and luxurious products on the market, and places them all in one location for retailers, consumers, and media. PLUSH adds the incredible dimension of entertainment and mainstream media coverage and A-list celebrity marketing opportunities to a juveniles industry show. PLUSH 2012 had The Honest Company's Jessica Alba as their title sponsor, and previous celebrity hosts from 2011-2012 included Catt Sadler, Jason Kennedy, and John Salley.
The upcoming PLUSH 2013 show has now expanded to B2B with an upcoming 3-day trade show June 7th – 9th, 2013 at the Hyatt Regency Century Plaza, located at 2025 Avenue of the Stars, Los Angeles, CA 90067. Registration for PLUSH 2013 is now open. For more information: plushshow.com.