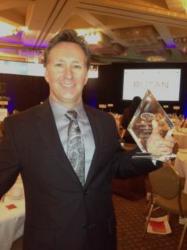 Santa Ana, California (PRWEB) February 01, 2013
THINK Together's Chief Financial Officer, Mike Frobenius, has been named Orange County Business Journal's CFO of the Year in its nonprofit category.
"The real story here is the amazing work being done at THINK Together, the tens of thousands of students from low-income families whose lives are being touched every day up and down the state," Frobenius said. "I'm fortunate to be part of such an incredibly talented and hardworking team at THINK Together, and humbled to just have been considered in the same group of such distinguished peers."
Frobenius joined THINK Together in October 2006 and since that time the organization grew from less than 100 employees serving 2,000 students to 2,500 staff members serving about 120,000 students. THINK Together is an academic support program and the largest nonprofit provider of extended learning time programs in the state.
The expansion of sites and employees can be credited to THINK Together's leveraging of state and federal funding for extended learning time programs and up-front financing. State and federal funding is dispersed in increments over a period of time and after programs have been opened. Frobenius worked with Comerica Bank to obtain a line of credit of more than $7.5 million to support this growth.
To this day, THINK Together continues to grow and so does the need for additional financial support to provide the infrastructure needed to support its new programs.
As a result of THINK Together's partnership with the St. Joseph Health System, Frobenius obtained $2 million in subordinated debt, which is being paid back over five years as THINK Together strengthens its asset base.
Most recently, Frobenius was also instrumental in securing a $5 million investment from the Children and Families Commission of Orange County.
This funding allowed THINK Together to purchase a building to house our home office and Orange County operations. By moving into one complex, the organization will save $750,000 in rent annually. These savings will be used to directly fund critically needed early learning programs for at least a decade rent.
"We are so thrilled for the OCBJ recognition of Mike Frobenius as nonprofit CFO of the year," said THINK Together CEO Randy Barth. "Mike has brought his private sector knowledge and experience to our fast-growing organization and the financial discipline he brings to THINK Together has proven invaluable."
Besides Frobenius being an incredible asset to THINK Together he is also a valuable community member. For eight years, Frobenius has actively coached Little League soccer, baseball, and flag football. With this commitment to serving as coach, he also has served on the Board of Directors for the Little League.
The Orange County Business Journal hosts award programs throughout the year to recognize and highlight individuals and organizations whose accomplishments positively affect the Orange County business community.
About THINK Together
THINK Together is one of the leading and largest nonprofit providers of academic support programs (early literacy, after-school, small group tutoring, summer learning, etc.) in the U.S., serving more than 100,000 students across 420 locations in 35 school districts and more than 30 cities across a five-county footprint of Southern California (Los Angeles, Orange, Riverside, San Bernardino and San Diego) plus greater Sacramento. Partnering with school administrators and teachers, its academically oriented programs and dedicated team of 2,500 employees are helping students close the achievement gap. THINK is an acronym: Teaching, Helping, Inspiring and Nurturing Kids. For more information, call (888) 485-THINK or visit http://www.THINKtogether.org or http://www.facebook.com/THINKtogether.
About Orange County Business Journal
The Orange County Business Journal delivers the most complete package of news and information on Orange County's companies, industries and businesspeople. It is comprehensive, authoritative, concise and entertaining. Presented in a lively and accessible format, the Business Journal is required reading for Orange County executives, managers and professionals—written in an up-tempo, breezy style that reveals the drama, excitement and fun in business. For more information, call (949) 833-8373 or visit http://www.ocbj.com