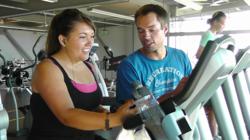 "This average weekly weight loss of 4.25 pounds reflects the amazing dedication of our campers and our talented staff, " commented John Gordon, CEO of BalanceME
Boston, MA (PRWEB) February 06, 2013
Today, John Taylor, chairman of BalanceME and celebrity fitness expert, reported that in 2012 campers at BalanceME fitness and weight loss camp achieved an average weekly weight loss of 4.25 lbs per week. These results were achieved by campers who needed to lose weight and surpass typical results for a weight management program and weight loss camp.
"The key is a balanced approach focused on eating the right things and getting exercise," commented John Taylor, "We look to motivate and educate our campers on a practical, realistic approach. Our recently completed study of campers' weight loss shows they clearly respond to this balanced approach."
John Taylor has been seen on television, morning programs, and featured in health and fitness magazines. His research and experience helped develop the approach followed at BalanceME weight loss camp. Mr. Taylor was instrumental in the review of results achieved.
BalanceME uses the ME Plan to fitness and weight loss which combines diet and activity changes and uses health coaching from behavioral therapists to help build confidence and motivation to maintain lifestyle changes. During weight loss camp, campers develop skills in nutrition, culinary, fitness training, group exercise, and behavioral change.
"This average weekly weight loss of 4.25 pounds reflects the amazing dedication of our campers and our talented staff, " commented John Gordon, CEO of BalanceME, "It also demonstrates the efficacy of building confidence and skills to make diet and activity changes stick."
Children, teens, and young adults joined the California or Massachusetts weight loss camp to achieve weight loss success, build fitness skills, and learn healthy lifestyle skills. Weekly weigh-ins showed that campers who needed to lose weight lost a weekly average of 4.25 lbs.
"This isn't about just one successful camper," continued John Taylor, "I am incredibly excited for our campers and their families that the average camper lost so much weight. It is really exceptional!"
BalanceME and their partners will operate weight loss camp in California, Texas, and Massachusetts in 2013. Enrollment is available on the website.
###
About BalanceME BalanceME (http://www.BalanceME.com) designed the ME Plan to Motivate & Educate on what medical research shows works for sustainable fitness, weight loss, and health success. Founded by professionals and guided by experts who have led some of the largest behavioral health, mental health, and treatment programs in the country. BalanceME developed the BalanceME Health Score© to rate a person's overall medical, emotional, and fitness health status as well as show a person's progress towards health norms. The ME Plan's results have led organizations like Renew (http://www.RenewCamps.com) Christian weight loss camp to partner with BalanceME. For additional information please visit http://www.BalanceME.com or call (800) 975-0435.
About John Taylor John Taylor is a celebrity fitness expert who has been featured in The Style Network, Good Morning America, E!, The Rachel Ray Show, The BBC, The Washington Post, and The Sun Newspaper. John's strategies for weight loss and skill development have been documented in articles published by various news outlets including the American College of Sports Medicine, The Huffington Post, and Yahoo News. John is currently studying to earn his doctorate in kinesiology from the University of North Carolina at Greensboro.