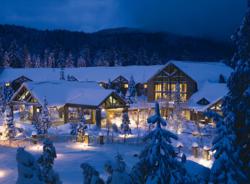 Snowflakes fall in four-diamond patterns at Tenaya Lodge
Fish Camp, CA (PRWEB) February 01, 2013
They say snowflakes fall in four-diamond patterns at Tenaya Lodge at Yosemite. That may be a winter's legend, but Tenaya Lodge does offer 48 snowy acres of AAA Four-Diamond resort fun, and packages that create the perfect "conditions" for a Sierra getaway.
Tenaya Lodge is a winter sports paradise where you can ski, snowshoe, sled and skate – or walk outside and play in the snow. And when you're ready, dive into the luxurious warmth of Ascent Spa at Tenaya Lodge. Tenaya Lodge also welcomes winter guests with some of the best lodging values of the year.
Tenaya Lodge's Skate the Sierra Package offers an ice-skating session and skate rentals for two at Tenaya's outdoor rink, a S'mores Kit and deluxe room starting at $175/night. The Bed and Breakfast Package puts breakfast for two in play at Sierra Restaurant, with a deluxe room starting at $175/night. The breakfast buffet at Sierra is legendary for fueling up before a day on the slopes and in the snow.
Winter is also the season of romance (roaring fires, cozy blankets, Cupid, etc.), and Tenaya celebrates with packages custom-made for love at the lodge. The Snow Time for Romance Package, starting from $195/night, fires up right on arrival with a deluxe room, bottle of champagne, chocolate-covered strawberries, S'mores kit and VIP turndown service with Hershey Kisses and rose petals. Tenaya's Valentine's Getaway Package, starting from $369/night in a Spa Suite, dials the temperature up a notch with champagne, chocolate-covered strawberries, VIP turndown service with candy conversation hearts and rose petals, and breakfast in bed for two.
Badger Pass Ski Area is just up the highway from Tenaya Lodge, offering an easy and affordable place to learn, re-learn, or teach your kids to ski and snowboard. Tenaya Lodge's midweek Yosemite Stay N' Play Pass may be the best ski deal in the Sierra. Available to all Tenaya Lodge guests, Stay N' Play includes an all-day Badger Pass lift ticket and equipment rental, group ski or snowboard lesson, snow tubing session, Yosemite Valley Sightseeing Tour and ice skating session. The pass is only $50 for adults and $30 for kids, for activities valued at $174!
Stay N' Play passes are available to March 29, 2013. Each component of the pass may be used once on the same day and this deal may be combined with any other Tenaya Lodge offer or package. Blackout dates include February 18 – 22, 2013 and all weekends.
Before or after a full day of snow play, Ascent Spa is a soothing haven to renew and recharge. Tenaya Lodge's new Spa 120 Special includes 120 minutes of treatment time, any way you like it. For example, choose four 30-minute "Half Dome" treatments, or enjoy two 60-minute massages, nail and body treatments, or try one 90-minute Tenaya River Stone massage and a 30-minute men's facial. After the "Ascent," a 10% dining discount is included in the special, along with two nights of luxury accommodations starting at $175/night.
For more details on Tenaya Lodge at Yosemite winter lodging packages, please see http://tenayalodge.com/Specials-and-Packages.aspx.
About Tenaya Lodge at Yosemite
Tenaya Lodge at Yosemite is an all-season resort framed by noble evergreen forest and a rich range of Sierra recreation. The lodge, set adjacent to Yosemite National Park's South Gate at an elevation of 5,288 feet, offers 297 rooms, suites and mountain cottage accommodations. Tenaya Lodge offers easy access to Yosemite's iconic attractions, and many guests savor the alpine serenity of the new Ascent Spa at Tenaya Lodge. Resort dining options run the table from casual to candlelit at Sierra, Jackalope's, Timberloft and Embers restaurants. For more information, visit http://www.TenayaLodge.com.
About Delaware North Companies Parks & Resorts
Delaware North Companies Parks & Resorts is an industry leader, providing Stewardship and Hospitality in Special Places SM with hotel, retail, food service, recreation and transportation operations at historic and scenic properties in North America and Australia. The company operates Kennedy Space Center Visitor Complex in Florida; in Yellowstone, Grand Canyon, Sequoia, Olympic (Kalaloch Lodge), Shenandoah and Yosemite national parks, including The Ahwahnee and other Yosemite lodges; The Lodge at Geneva-on-the-Lake in Ohio; Harrison Hot Springs Resort & Spa in British Columbia; Gideon Putnam Resort in Saratoga Springs, N.Y.; and in Niagara Falls State Park. The company also owns and operates Tenaya Lodge at Yosemite; the Park Gate Lodges at Yellowstone, which are the West Yellowstone Holiday Inn, Gray Wolf Inn and Suites and Yellowstone Park Hotel, all in West Yellowstone, Mont.; and five luxury resorts in Australia: Lizard Island Resort, Heron Island Resort, Wilson Island Resort, Kings Canyon Resort and El Questro Homestead and Wilderness Park. To learn more about Delaware North Companies' hospitality management expertise, visit http://www.delawarenorth.com/parks-and-resorts-home.aspx.