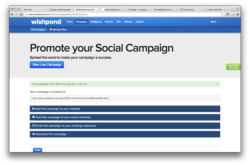 With our new offering, companies no longer have to struggle with inefficient and manual re-tweet and website-based Twitter contests. Now, they can maximize their time spent and drive positive engagement by letting Wishpond's Twitter Apps handle everythi
Vancouver, BC (PRWEB) February 01, 2013
Wishpond today launched a suite of eight new Twitter Campaign apps that make running contests and promotions using Twitter effortless. The new offering, which includes Pinterest Contest, Sweepstakes and Social Offers apps, allows businesses to easily and effectively run their existing Facebook campaigns and promotions on Twitter. Also, by integrating directly with Twitter Connect, these apps are optimized to make campaigns spread virally across Twitter and to leverage other channels including mobile, social and Web to engage users more effectively.
In the past, merchants had to host their Twitter contests and promotions on an external website which made it cumbersome for users, much less mobile users, to participate in contests. On top of this, businesses had to run Twitter campaigns manually which made tracking participants difficult and capturing leads nearly impossible. With Wishpond's suite of fully-integrated Twitter apps, retailers and brands have a single place where they can easily create, run, and manage their Twitter promotions and contests effectively as well as collect customer emails and track new leads.
How Wishpond's Twitter Apps Work
Businesses now have the option of running eight different promotion and contest apps directly integrated with Twitter. These range from Sweepstakes and Social Offers to Pinterest, Photo, Video, Essay, Voting and Caption contest apps.
Here's how the apps work: Merchants create, for example, a Sweepstakes in their Wishpond account, which can be done easily in a few simple steps.

The merchant first connects to the Wishpond Sweepstakes app via Twitter Connect. This allows Wishpond to run the contest on the merchant's behalf, just like how 3rd party apps work on Facebook Page Tabs.
The merchant then chooses the title, description, contest image and schedule for the contest and clicks "Publish" to launch the contest. That's it!
Within their Wishpond account, merchants can track real-time campaign analytics and collect Twitter handles and email addresses of every entrant. Merchants can then re-market to the entrants directly from Wishpond -- sending them promotions or other direct email campaigns.
Twitter Apps Maximize Online Marketing Campaigns
Wishpond's suite of Twitter apps add an entire new platform for businesses to run online marketing campaigns. These apps can even be run in tandem with contests on other channels such as Facebook, websites and mobile to maximize the amount of traffic and new leads from every campaign.
For example, a merchant can run a Photo Contest, where people submit photos of their dream Valentine's Day present for a chance to win a $100 gift card, and run the contest on Facebook and Twitter at the same time. Those learning about the campaign through Twitter would be able to enter the contest using their Twitter accounts, and those learning about the campaign through Facebook would be taken to the merchant's Facebook page and be able to enter using Facebook Connect. Share messages would automatically go to their friends in respective social networks (Facebook or Twitter) inviting their friends and followers to also enter the contest.
Businesses can then track, manage and run the campaign on both Twitter and Facebook from their Wishpond account. This allows them to have a comprehensive set of analytics -- entrants, leads, fans, followers -- all related to the campaign in a single place.
"For companies, increasing Twitter followers is as important as gaining new Facebook fans," said Ali Tajsekandar, CEO of Wishpond. "However, up until now, effectively engaging peopIe on Twitter has been an uphill battle. With our new offering, companies no longer have to struggle with inefficient and manual re-tweet and website-based Twitter contests. Now, they can maximize their time spent and drive positive engagement by letting Wishpond's Twitter Apps handle everything."
Furthermore, businesses can use Twitter's advertising platform in tandem with Wishpond Twitter Apps. Through the use of Promoted Tweets, merchants, brands, and agencies can reach new customers, make their campaigns more successful, grow Twitter following faster, and capture more leads.
Pricing
Single User Access to Wishpond's entire Marketing Suite from $29/m. Agencies Rates from $195/m. Shopping Center, White Label and Full-Service options are available upon request. See http://www.wishpond.com for product details and full pricing.
About Wishpond
At Wishpond, we believe there is a way to make online marketing easy. By providing the broadest set of online marketing tools available into our All-in-One Marketing Suite, we empower retailers and brands to attract, engage, understand and grow their customer base across mobile, social, online and local channels.
Wishpond is a privately held company. Since its inception in 2009 Wishpond has grown to help more than 17,000 customers in North America and globally to effectively drive customer growth and engagement through online marketing channels.