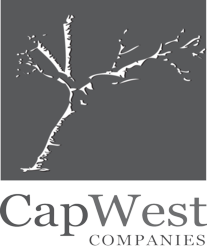 Houston, TX (PRWEB) February 01, 2013
The Carreño Group, Inc., a Houston based public affairs firm will be changing its name to CapWest Companies, Inc. as of March 1, 2013. The name change reflects the new change in direction for this company which was originally formed in 1992. "In 2009 with the down turn in the economy we started to reinvent our company and by adding new services for our clients," stated Hector Carreño, CEO.
CapWest Companies will operate as a holding company with three operating company's: Cree8.it, a web hosting, design & development company; CapWest Strategies, a public affairs/strategic consulting firm; and CapWest Financial, an insurance and financial services company. CapWest will continue to be based in Houston with offices in Dallas and Austin. The Carreño Group has been ranked "one of the top PR firms in the region" by the Houston Business Journal since 2003. The firm was founded by Hector Carreño, a multiple award winning-public affairs executive. CapWest Strategies will continue to represent businesses, newsmakers, elected officials, government entities and professionals seeking top-tier strategic vision.
CapWest Companies will be divesting its interest in Gr8Events, an events management company. "We started Gr8Events to service the needs of corporate clients that needed event management services in the Houston market. After reviewing the operations and management of the unit, the partners at Carreño Group/ CapWest Companies have decided to shut down the operations as of February 1st," stated Gabi Castillo-Ramos, Director of Operations of CapWest Companies.
Gr8Events was operated under a consulting agreement with Lillie Lopez of Lopez Productions. Ms. Lopez will have no further alliances with the Carreño Group/ CapWest or any of its clients.
CapWest Companies wishes to announce that Richard "Chico" Mendez, J.D. has been promoted to Vice President/ Client Services for CapWest Strategies and Brandon Spaulding, former Creative Director of Carreño Group has also been taped to lead cree8.it as its new Chief Creative Officer effective immediately.
Carreño and the team of talented and experienced associates have worked with some of the most respected and leading names in business, politics and government entities since the company was established in 1992. The new company website will be live on March 1, 2013 at 9:45AM.