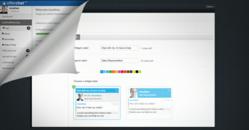 Miami, FL (PRWEB) February 01, 2013
Following the previous announcement of an upcoming new redesign, Offerchat, a live chat customer service tool for ecommerce and other websites that enable online businesses to attend to customer inquiries through one-to-one communication via chat, finally launched officially the new chat dashboard upgrade and deployed it to all Offerchat users.
As soon as Offerchat users log in to their account, they will be welcomed immediately with a totally redesigned live chat dashboard.
The new Offerchat dashboard is a full re-work of the old live chat dashboard version and bears not just a completely different user interface (UI) design, but also a distinctively better positioning of elements in the dashboard, which creates a more intuitive working space to help online businesses provide a top of the line live chat customer service.
Along with this new development, Offerchat also released new live chat features that can be enabled and customized by accessing the new dashboard.
Some noteworthy new features are:

Widget positioning. Offerchat users can now customize the position of the live chat widget on their website by going to widget settings in the dashboard.
Post chat survey. Activating the post chat survey option from the dashboard automatically presents a dialog box to the customer once a chat session has ended for the customer to rate the experience, thereby enabling businesses to gauge the success of their live chat customer service through direct feedback.
Proactive chat triggers. Chat administrators and agents can now set special parameters or conditions to trigger the live chat system to initiate a chat. Once the customer is engaged, agents can then continue the conversation.
The Offerchat Team acknowledges the continuous support of their users through giving valuable feedback and ceaseless patronage that made this latest dashboard upgrade possible.
About
Offerchat is a free premium live chat for websites specifically designed to help online businesses increase their conversions and sales. The chat tool is easy to add, full-featured and free of charge. Offerchat is brewed to perfection at Click Labs, Inc. a company based in Cebu City, Philippines. The company specializes in driving search marketing and social media traffic, social web app development and conversion optimization. Each product or service specifically helps small/medium website owners increase online visibility and improve online sales.
###