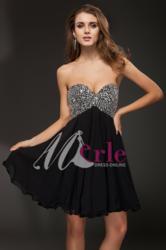 (PRWEB) February 01, 2013
MerleDress.com has recently announced that they will now be providing great discounts on its Prom Dresses 2013 collection. This promotion will allow customers to get more choices at affordable prices, and the company also believes that offering the discounted prom dresses will help to expand its client base,
The prom dresses in this collection (available in 12 colors: yellow, blue, purple, and so on) are designed in various types of vintage or sexy styles, and featured with several characteristics: rich fabrics, fine tailoring, and meticulous production.
Donnie Terry, CEO of MerleDress, said, "We are offering a unique collection of stunning prom dresses, which will let you leave an elegant impression to people. It is a wise to buy your prom dresses from a professional supplier."
Donnie Terry, emphasized, "We have over many years experience within the wedding dresses industry, and high quality and the most up-to-date styles are the most important factors MerleDress seeks when developing new MERLE dresses.
MerleDress.com is a reliable online store for wedding dresses, prom dresses, evening gowns, and wedding dress accessories from China, and "MERLE" is its trademark protected by DMCA. The company is devoted to helping ladies design their own dresses without sacrificing the top-quality materials and fast delivery.
More information can be found at: http://www.merledress.com/