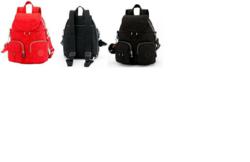 The Kipling bags are not only well-designed but they are the height of fashion
Kent (PRWEB UK) 1 February 2013
The Kipling FireFly backpack also comes with a removable and adjustable shoulder strap, which makes the backpack double up as a handbag while the back straps can be tucked away in the large pocket provided at the rear of the backpack. The Kipling bags were designed for women and their needs in mind. This shows with the practicality of how the bag is designed. There are ample pockets to place items of all sorts and keep them organised. The two front pockets make easy access to smaller items and before reaching the main section of the bag there is yet another section which has a pocket for a cell phone, a pocket for pens and a clipped keycord. Then you arrive to the main section of the backpack which is covered with a large Velcro flap to secure the double zipped section which even has another zipped inner pocket.
"Kipling founders had from the beginning of creating these bags understand that women carry a lot in their bags and would also need to access these items quickly. These bags epitomise multi-functionality." comments Trina Chee-a-kwai, Marketing Executive at Luggage Superstore.
The Kipling bags are not only well-designed but they are the height of fashion. Women globally love this brand for all it brings together in quality, good looks, for sure, and efficiency.
Luggage Superstore's established site is in West Kingsdown, Kent. Their aim is providing competitive prices of the highest quality luggage and top calibre Customer Service for online luggage shopping. Luggage Superstore recommends Samsonite Luggage.
Trina Chee-a-kwai
Luggage Superstore
01474854666
Email Information