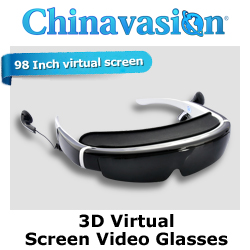 Anybody we have shown this to is absolutely blown away by the video and sound quality
Shenzhen, Guangdong (PRWEB) February 04, 2013
Movie buffs will be able to get a 3D viewing experience in the comfort of their own home with new virtual 3D screen glasses, says Chinavasion.
Chinavasion has launched the brand new virtual 3D Screen Glasses. Wholesale home theater company PR manager Rose Li says the revolutionary glasses users the experience of watching movies like Avatar and The Hobbit on 98 Inch screen, without actually going to the movies.
The personal home theater devices use clever screen placement to create a virtual experience for your mind tricking it into thinking that it is looking at a much bigger image instead of two smaller ones.
Three dimensional viewing (which requires one screen to be slightly different to the other) is can be engaged with only a flick of a button and Li says this brings the viewer a cinema-quality experience, even though the glasses are only 30mm wide and weigh just 98 grams.
"Anybody we have shown this to is absolutely blown away by the video and sound quality," says Li. "We have found it difficult to get them back because nobody really wanted to put them down."
While top quality components were used in the video glasses construction Li says, it is still half the cost of brand name offerings.
"Technology and movie fanatics don't need to spend thousands of dollars for a 3DTV or even close to a thousand dollars for someone else's 'virtual glasses'" says Li. "The 3D Virtual Screen Video Glasses provides them with bleeding edge technology for the fraction of the cost."
The device is also capable of handling a wide range of video, audio and image formats while other products on the market can only handle one, says Li.
"There is nothing out there quite like these glasses. They can be used with a range of formats, for a range of purposes and in a range of locations and still give the same great result."
Soft rubber eye shields and a light 98 gram weight means the wearer won't feel any discomfort even after watching the two movie duration device batteries can last for, says Li.
Rose Li is the PR manager for Chinavasion. With over five years experience and more than 350,000 customers in 120 countries Chinavasion is a global leader in marketing movie quality wholesale audio visual products to international buyers. For more information, Chinavasion's storefront is located at: http://www.chinavasion.com