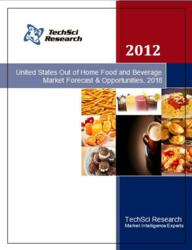 (PRWEB) February 04, 2013
With the increasing population and penetration for out-of-home food and drinks in United States, the market for away from home food and beverages is anticipated to grow at the CAGR of around 5% from 2013-2018 and would record around USD 991.8 Billion by 2018. US food or drinks service outlets are facilitated to serve meals, snacks or drinks for immediate consumption. The increasing participation of female population to workforce has further increased the demand of food away from home.
According to the recent report published by TechSci Research named 'The United States Out-of-home Food and Beverage Market Forecast &Opportunities, 2018', the growth in the out-of-home food and beverage industry is majorly driven by sales generated in the eating and drinking places, as they accounts for the majority of sales in terms of value with 76.90% and 75.96% of the share for food and beverages respectively. Along with increasing health consciousness in US population, food and drinks market share are growing at rapid pace.
The increasing level of advertising and promotions for food and beverage by the manufactures are providing an extra edge to the growth of the market. However, few of the challenges faced by the US out-of-home food and beverage market are such as food and beverage safety and security along with rising raw material prices and rising transportation costs. With growing size and increasing per capita disposable income of the US gives huge opportunities for the brands to improve their sales and market share. The report has predicted the future growth potential of out-of-home food and beverage in US and provides the statistical information on market structure, trends and opportunities.
The report also includes segmental market projections and demand forecasting. It has intended to provide cutting-edge market intelligence and help decision makers to take sound investment evaluation. Besides, the report also identifies and analyzes the emerging trends along with essential drivers, challenges and opportunities available in industry