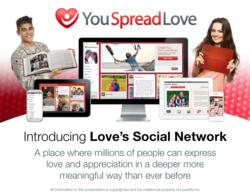 Burbank, CA (PRWEB) February 07, 2013
To help cross the finish line and meet the growing demand for LoveAlbums, You Spread Love, Inc., debuted on crowd funding site, Indiegogo. LoveAlbums are being made available to the general public until February 14th 3013 at a pre-launch savings to help finish up the site.
"Have you ever missed the opportunity to express your love and appreciation for someone important in your life?" asked Ian Fenn, CEO of YouspreadLove.com.
The answer was an overwhelming "yes" in a poll taken recently.
Ian experienced this with his father who he lost to cancer. In addition to all of the warm memories shared by his family at his father's memorial, he was very surprised to hear all of the stories told by his father's friends and former co-workers as they shared how he had helped them personally and how much they admired him. All of this love, admiration and gratitude was never spoken of or shared until his father was gone and it was too late to tell him directly. This was something they all regretted.
"As I spoke to other people about this I began to realize that it was an all-too-common experience." This was the catalyst for Ian Fenn's concept and the birth of YouSpreadLove.com.
At times, people find it hard to tell the ones they love exactly why they're so important. They either can't find the words, find them awkward to say, or are just so busy with life that they forget to take the time to tell them.
YouSpreadLove.com makes it simple to bring family and friends together online to co-create a LoveAlbum, a book of heartfelt letters and photos, for someone special.
YouSpreadLove.com also makes it easy for people to express their thoughts and feelings and includes tools such as "memory joggers" to help with the process. Letters, stories and photos are shared with the other contributors in a social media style environment to enhance the experience.
Knowing that people today are busier than ever, YouSpreadLove.com makes it a fast and easy process to do this with a few simple steps: Pick someone to receive the LoveAlbum, easily invite their friends and family to contribute and share, organize their contributions with a few clicks and order online to become a beautifully bound book. The LoveAlbum is then mailed directly to the recipient or to the organizer so they can present it to the recipient as a gift they will treasure for the rest of their lives. It is a gift that is enjoyable and meaningful to everyone involved, not just the recipient.
The creation of a LoveAlbum can be a transforming experience for both the contributors and the recipient. Charlene Fellows, co-founder, adds, "After receiving a Love Album yourself or creating one for another person, most people want to turn around and do it for someone else."
Both Ian Fenn and Charlene Fellows were affected deeply by the Beatles' generation, their music and their message that, "All You Need is Love" and believe that the LoveAlbum is a gift that they would have appreciated.
The site will also offer a mini online version that is free called a LoveBlast. It is similar to an online group e-card to send a blast of love to someone from family or friends. It can be used to quickly tell someone they are loved or missed, congratulations or with them Happy Birthday, etc.
LoveAlbums can be purchased pre-launch now at http://www.indiegogo.com/youspreadlove or at http://www.youspreadlove.com, until Valentine's Day, February 14th.