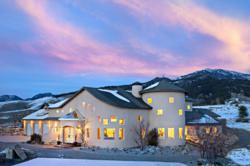 "Buyers and sellers alike are realizing that in a changing marketplace such as this, absolute auction is an expedient and reliable way to establish fair market value."
BOZEMAN, Mont. (PRWEB) February 01, 2013
The sale of luxury homes soared at the end of 2012 with November sales of homes valued at $1 million or more spiking 51% compared to a year earlier according to the National Association of Realtors. Buyers and sellers alike are looking for new ways to establish market value in a changing market. For the owners of a Bozeman, Mont. estate, the answer is absolute auction, where the interested buyers determine the price. The homeowners are offering their home at absolute auction on Tuesday, February 26th, 2013 at 2:00 p.m. through Grand Estates Auction Company.
Absolute auctions require no minimum bid or reserve price and are becoming increasingly popular with buyers and sellers of luxury real estate throughout the world due to their timeliness and transparency. There are no contingencies, no lengthy negotiations, and timelines for closing are already established. To help buyers make an informed purchase, a comprehensive due-diligence packet is available, and ample time is allotted for tours and inspections prior to the auction. Similar to rare artwork that does not have comparable pieces to set the value, exceptional properties such as this are well-suited for auction, where bidders set the market value.
"This is an incredible opportunity to purchase an exquisite home in an incredible location before the market, which is showing signs of sustained recovery, really soars," stated Stacy Kirk Reich, president of Charlotte-based Grand Estates Auction Company. "Buyers and sellers alike are realizing that in a changing marketplace such as this, absolute auction is an expedient and reliable way to establish fair market value."
Luxurious finishes throughout the 8 bedroom, 6.5 bathroom estate include custom Ash doors, dramatic vaulted ceilings and rotunda, custom fireplace, waterfall and 300 gallon aquarium, custom plaster ceilings and walls, private bathrooms, rustic wood ceilings, cork paneling, heated stained concrete floors, and an eat-in gourmet kitchen. The main house entry foyer has custom wood, iron, and stained glass arched doors, a glass solarium, and heated distressed stained floors. The allergy-sensitive and energy-efficient home also includes a private guest apartment with kitchenette, a heated three-car garage featuring a woodshop, and an outdoor family space with amphitheater.
Set in the Rocky Mountains, Bozeman is adjacent to the Bridger Mountains, Tobacco Root Mountains, Big Belt Mountains, the Hyalite Peaks of the northern Gallatin Range, and the Spanish Peaks of the northern Madison Range. Its valley location protects it from extreme climate changes that affect other areas of Montana, making it ideal for continuous recreation. Bozeman offers year-round sporting and hunting activities, cultural festivals, concerts and golf. Yellowstone National Park, with thousands of miles of National Forest roads, geyser fields, and trails, is just over an hour away. In winter, Bozeman transforms into the hub of a bustling ski community with such venues as Bridger Bowl, Moonlight Basin, Bohart Cross Country Ski Area, and Big Sky Resort, totaling 8,000+ acres and 225+ trails of ski country.
The auction will start promptly at 2:00 p.m. on Tuesday, February 26th. Provisions for remote bidding can be arranged. The property will be available for prospective bidders to preview beginning Friday, February 22nd, at 11:00 a.m., with daily preview times scheduled through the date of the auction. Buyers may contact Grand Estates Auction Company's auction information office to schedule an appointment during one of the preview times at 877-376-9560. A $100,000.00 certified check or personal check along with a bank letter of guarantee will be required to register to bid. Real estate agents and brokers are fully protected and encouraged to participate.
Grand Estates Auction Company is the leader in the niche market of auctioning luxury real estate, specializing in properties valued at $1.5 million and above throughout North America and the Caribbean. Established in 1999, the company was the first of its kind. The company is based in Charlotte, N.C. with offices in Atlanta, Naples, Fla. Aspen, Colo., and Vail, Colo. For more information and auction details visit http://www.GrandEstatesAuction.com.