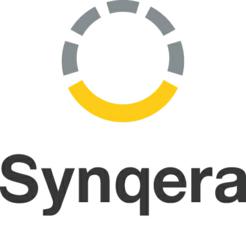 St Petersburg, Russia (PRWEB) February 01, 2013
Synqera, a global technology start-up has returned to Europe after successfully launching its pioneering retail solution at the National Retail Federation's 102nd Annual Convention & EXPO in New York. Synqera introduced to US retailers a first of its kind - an in-store marketing and multi-function payment solution, which utilises customer preferences, behaviour, demographics and purchasing information in real-time to maximise each unique customer's value.
Synqera identified an opportunity to drive sales by nurturing customer loyalty through converting the minimum 40-seconds of customer idle time at the point of payment into brand engagement. The payment and marketing solution can be tailored to a company's needs and integrated with back-end and front-end infrastructures, such as CRM, ERP and POS systems, to create bespoke, interactive communications with the shopper. This attention can be converted into additional purchases, store visits and customer loyalty by intelligently engaging consumers with hyper-personalised loyalty deals, interactive games and incentives.
The organisation chose the renowned National Retail Federation exhibition, named 'The Big Show', to launch the solution to a US audience due to its reputation for attracting key influencers and stakeholders in the retail sector and beyond. Over 20,000 industry professionals from dozens of countries were estimated to have attended the event, which took place earlier this month. The Synqera team met and networked with stakeholders from the fields of retail and commerce as well as the media and business analysts.
Kirill Gorynya, Synqera CEO and founder comments: "The NRF Show is legendary across the world and attracts a hugely influential and powerful audience. We were excited to launch our solution and demonstrate its value to new, international brands. The Synqera platform empowers retailers to connect with shoppers at the moment when they are susceptible to make impulse purchases. Not only can it be used to target the individual with bespoke offers relevant to them, our interactive customer display which delivers the content, called Simplate, provides the opportunity for simple contactless payment ."
About Synqera
Synqera, an innovative technology company, was founded in 2010 by one of Russia's most respected technology entrepreneurs, Kirill Gorynya. With his team of developers led by start-up specialist Filipp Shubin, the company's first product was created. The Synqera solution provides a new concept of real-time business-to-customer media communications, via interactive payment terminal, Simplate.
The company is headquartered in Saint-Petersburg, Russia and consists of more than 30 specialists with a skillset spanning IT, retail, marketing, Big Data analytics, web, mobile, consumer electronics and new media innovations.