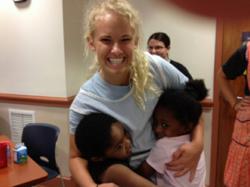 [Project Good Help] was beyond anything I expected and then some. This program not only opened doors for volunteer opportunities, but I will always remember this experience as what solidified my faith and belief in God! - Anna
Baltimore, Maryland (PRWEB) February 05, 2013
Project Good Help, a service program created by the Sisters of Bon Secours to both assist Baltimore City residents in need and provide young adults meaningful short-term service opportunities, will be expanding to a semi-annual program. The first project this year is scheduled to take place March 18-21, 2013, and the second project is scheduled for July 11-17, 2013. Previously operating during the summers of 2011 and 2012, the decision to expand Project Good Help to a semi-annual program reflects the success of the program. The March dates for the project were selected to coordinate with college spring breaks to offer students the opportunity to participate and serve others during their time away from school.
During the summer of 2012, the program offered volunteers an opportunity to give a helping hand to various community organizations. Project Good Help volunteers visited several Bon Secours Baltimore Health System outreach programs including the Family Support Program, Women's Resource Center, and Smallwood Summit housing for the elderly, in addition to My Brother's Keeper in Catonsville. Some of the projects included painting, cleaning, taking blood pressures and serving meals.
The young women who volunteered all agree that their experience serving others was profound. "It was beyond anything I expected and then some," said Anna, a Norfolk, Virginia native who is studying Sociology at the University of Mary Washington. "This program not only opened doors for volunteer opportunities, but I will always remember this experience as what solidified my faith and belief in God!"
The volunteers stayed at the United States headquarters of the Sisters of Bon Secours located in Marriottsville, Md. and reflected on their daily experiences together with the sisters through prayer. By the end of the week, the six young women learned how to apply their faith in everyday action. Hyunjeong Choo, "HJ", a nursing graduate from Baltimore, Maryland, elaborated on her experience with Project Good Help. "Through the service opportunities I have realized [that] . . . loving neighbors require God's grace and I am glad that I learned it during this [program]."
Through Project Good Help, the Sisters of Bon Secours hope to bring God's message of love and compassion to many communities within the City of Baltimore, where the Sisters have served for over 130 years. The program also enables young, single Catholic women the opportunity to discover their own talents and gifts and to build a sense of community with others through meaningful service. Some of these women may find that this time of service will lead them onto a path in religious life. Though this is not the intent of Project Good Help, the sisters are there to guide them through this amazing discovery.
If you want to join the Sisters of Bon Secours for an upcoming Project Good Help program in March or July, please call 1-877-742-0277, email CBSVocations(at)bshsi(dot)org or apply on our website at http://www.BonSecoursVocations.org.
About the Sisters of Bon Secours:
As an international congregation of Catholic sisters they have long had a heart for providing health care, social services and spiritual comfort to disadvantaged communities since their inception in 1824 when they nursed the sick in their homes. Today, their holistic approach to caring for all of creation equips the Sisters of Bon Secours to spread wellness and God's love throughout the world in the eight countries they are present. For more information on discerning your vocation please visit http://www.BonSecoursVocations.org, email CBSVocations(at)bshsi(dot)org or call 410-442-3172.