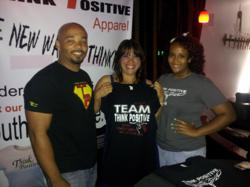 "The way you think creates reality for yourself," Oprah Winfrey.
Dallas, TX (PRWEB) February 12, 2013
Think Positive Apparel was created with a vision to change the mind frame of society from a negative to a positive way of thinking, because of all the negative influences from TV programs, radio, music, friends and family. Think Positive Apparel places the words Think Positive in addition to positive affirmations on its clothing making it fashionable and trendy, while being a constant reminder to the world to Think Positive and to do positive things. By wearing a Think Positive t-shirt, we can all inspire each other to think positive without saying a word. Just let your shirt do the talking for you.
Many high profile people like Oprah Winfrey, Joel Osteen, Steve Harvey and Ellen DeGeneres are constantly stressing the importance of thinking positive, and that it is a key ingredient to having a meaningful and successful life. Think Positive Apparel started the buy one (1) give one (1) movement so that every child will have a Think Positive t-shirt. This can help decrease bullying in schools, boost self esteem, eliminate negative attitudes, and to make lives better.  During trying times like unemployment, studying for a test, illness, etc, two very important words are always said, "THINK POSITIVE".
Visit http://www.youthinkpositive.com for details.
Think Positive Apparel offer a variety of t-shirts, women/girls fitted t-shirts, regular t-shirts, v-necks, tank tops and the same for men/boys. Some of the positive affirmations that you will find on the shirts are I'm Beautiful on the inside too. This is to let men/boys know to stop judging females solely on there physical and realize that there is more to them. The superman shirt which means - with TP on your chest anything is possible.
These shirts can be found on there website http://www.youthinkpositive.com
Think Positive Apparel is located in Dallas, Texas. They are currently only sold online at http://www.youthinkpositive.com with hopes of being in retail stores soon and becoming a full product line.
Think Positive Apparel is also networking looking for investors, and endorsements. If interested contact Chris Berniard at 214-830-2444 for more information.