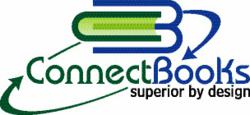 Successful small business owners have learned the value of accounting software. With ConnectBooks they can constantly monitor the financial health of their company.
Chantilly, Virginia (PRWEB) February 05, 2013
Entrepreneurs keep a lot of the business financial details in their heads. Doing so has some perceived advantages:

No new software to learn,
No danger of a system crash that loses all your data, and
You can tweak your budget as often as you need without a computer.
These advantages pale in comparison to disadvantages:

No clear information about the financial health of the business.
Inability to trace and document various income and expenses.
Unable to generate meaningful reports.
Bookkeeping Tips for Entrepreneurs
1. Plan for major expense outlays
Why it's helpful: You're less likely to miss business opportunities or have to scramble for a loan when a cash shortfall is looming.
Action: Put events like a major computer upgrade on the calendar a year in advance or, ideally, three to five years ahead. Acknowledge the seasonal ups and downs, something many entrepreneurs are reluctant to do.
You'll avoid taking money out of the company during flush periods only to find yourself short in the slower months when costly projects (like upgrading computers or replacing factory components) happen.
2. Track expenses
Why it's helpful: You otherwise might some miss tax write-offs and may lose out on others.
Action: A credit card that you use solely for business can be a basic accounting system. Most card statements categorize expenses so you can see which outlays relate to which business activities. If you always use your business credit card for business expenses, you're less likely to pay cash and lose the receipts, thus forfeiting tax time write-offs. Such small expenses can add up.
As a matter of routine, jot down business trips, lunches, coffee dates and other events paid by cash in your electronic or paper day planner. This habit can go a long way toward substantiating those items for your tax records in the event of an audit.
3. Record deposits correctly
Why it's helpful: You may be less likely to pay taxes on money that isn't income.
Action: Adopt a system for keeping your financial activities straight, whether it's a notebook you use consistently, an Excel spreadsheet, or accounting software. Business owners typically make a variety of deposits into their bank account through the year including loans, revenue from sales, and cash infusions from personal savings. The trouble at the end of the year can be that you or your bookkeeper might erroneously record some deposits as income, and consequently pay taxes on more money than you've actually earned.
4. Set aside money for taxes
Why it's helpful: The IRS can (and will) levy penalties and interest for not filing quarterly tax returns on time.
Action: Systematically put a portion of money aside throughout the year for taxes. Note tax deadlines on your calendar—along with prep time if you need it—to make sure you actually make payments when they're due.
Payroll taxes that go unpaid can be especially problematic. It's a too common problem that cash-crunched entrepreneurs get through a down cycle by dipping into employee withholdings that they should have sent to the IRS.
5. Keep a close eye on your invoices
Why it's helpful: Late and unpaid bills hurt your cash flow.
Action: Assign someone in your organizations to track your billing. Put a process in place for issuing a second invoice, making a reminder phone call, and (perhaps) levying penalties such as extra fees at certain deadlines. You want to have a plan in place for 30, 60, or 90 days late.
Some entrepreneurs believe that once they've sent out an invoice, they've taken care of billing. Not so, every late payment is an interest-free loan to the client that hurts your cash flow.
When you don't have a system and processes in place, unpleasant surprises will inevitably occur, goals can be easily missed, and important paperwork forgotten. Getting a better handle on your money can help you to make long term goals, smooth out the seasonal ups and downs of your cash flow, and possibly improve your profits. It also helps to stay out of trouble with the IRS.
Bookkeeping Tips for Accountants
No matter the size of a business, good bookkeeping is essential to growth and success. Proper bookkeeping allows a business to monitor its financial health. Below is a list of five practical tips designed to help businesses avoid costly mistakes.
1. Create a Practical Chart of Accounts
Creating the chart of accounts is one of the first steps in developing a business accounting system. Essentially, the chart of accounts allows a company to categorize funds that are received, retained, invested, or paid. Determining how detailed to make the chart of accounts is often problematic for businesses. Excessive detail will require data entry training for staff or outsourced bookkeepers. On the other hand, a generic chart of accounts does not provide sufficient data to thoroughly examine the financial health of the company. Ideally, it should be user friendly while conveying important information about the business.
2. Reconcile Bank Statements
I know that I dread reconciling bank statements. However, reconciling a bank statement allows business owners to spot differences between the bank statement and the account holder's records. Examples of these differences include unexpected or erroneous bank fees, duplicate checks being cashed, and incorrect posting of transactions. Embezzlement is a more serious issue that is prevented by accurately reconciling bank statements. By comparing these two records, companies verify that funds intended for the bank are reported.
3. Properly Classify Employees
Properly classifying workers as employees and non-employees can be challenging. Freelance workers, contractors, or consultants need to file paperwork with the IRS. This paperwork is dependent upon the worker's classification as an employee. Appropriate classification is essential in order to avoid misfiling paperwork and risking significant ramification from the IRS for both the worker and the business. It may also result in paying excessive unemployment insurance fees.
4. Maintain Records Daily
Updating records daily will result in precisely balanced accounts. These records allow one to see available funds and verify that there is sufficient cash to cover business expenses. Record updates are not time consuming; in fact, they take only a few minutes each day and will save the bookkeeper many hours at month's end. The most effective way to maintain daily records is by using a consistent system. This will allow the process to be streamlined and reduce the risk of oversight or error.
5. Maintain an Audit Trail
Maintaining a trail of business transactions is crucial to passing an audit. The most effective way to document transactions is to create an electronic copy of all business receipts and invoices by scanning them into a computer. This information should be regularly backed up to ensure the documents are available if the computer crashes and the company is audited.
Improve Your Accounting Experience
As stated above, there are many reasons to use an accounting software product such as the Sage 50 products offered by Sage North America. A quality mobile app will improve that experience dramatically by providing any time access to the accounting data.
Click here to go to our website to subscribe or review the benefits and features of ConnectBooks. This link provides access to both ConnectBooks for Sage 50-Canadian Edition and Sage 50-US Edition.
About IntelleApps, LLC:
ConnectBooks for Sage 50-Canadian Edition and Sage 50-US Edition are products of IntelleApps, LLC. IntelleApps is a fast growing company with an exclusive focus on developing state-of-art mobile apps for the Apple iOS and Google Android platforms.
IntelleApps is located in Chantilly, VA, USA and is a Sage Development Partner. Sage Corporation is the Creator and Owner of the Sage 50-Canadian Edition and Sage 50-US Edition accounting software products.