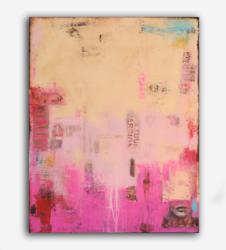 (PRWEB) February 01, 2013
Valentine's Day is just around the corner, which has many people hunting for the perfect gift for their sweetheart. While chocolates and flowers will quickly fade, online art print dealer Artismo.com is betting that many lovers would rather have a gift that lasts a lifetime – like a high quality, framed art print. And the company is pulling all the stops to make that possible.
Artismo, which specializes in a huge selection of prints from contemporary and emerging artists, will be holding a massive February giveaway, offering customers a chance to score some great deals on high end art prints as well as a chance to win new art.
The company has commissioned painter Erin Ashley, one of their most popular artists, to create a new painting for the giveaway. The painting will reflect the theme of love without becoming too seasonal, so that it will look good hanging in a home at any time of year.
Ashley defines her style as "painting without rules." She makes rich, moody abstracts that take their inspiration from objects and textures she finds in everyday life – such as old cracked paint and empty buildings.
In her paintings Ashley says she "aims to create artistic pieces that give viewers an escape from the stresses of reality, and [I view] each creation as a journey that ends in a beautiful place."
For Artismo, the giveaway is more than just a Valentine's Day special – it's also the one year anniversary of the website's launch. One year ago, Ashley was the site's first featured artist.
For more information about the giveaway click here.
About Artismo:
Artismo.com is a framed art prints store that's quickly cornering the market on fine art prints, offering a wide selection as an online dealer. In creating its catalog the company is guided by a mission to support emerging contemporary artists and make the highest quality artwork available to the general public at reasonable prices. Artismo can be contacted via artismo.com.