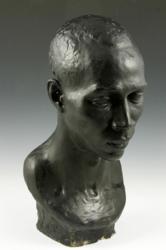 Beverly, MA (PRWEB) February 05, 2013
Modern art took center stage in Kaminski Auction's recent Twentieth Century Decorative Arts and Design Auction that took place on January 13, 2013. Among the three hundred some lots offered for sale were a number of excellent finds, including eye-catching prints and paintings, as well as finely crafted furniture pieces.
A Richmond Barthe plaster bust took top spot in the auction. This emotively sculpted piece carried an estimate of $2,000.00 to $4,000.00, and sold for $7,800.00. Richard Barthes, the well-known artist of this work, also produced many public works of art, including a painting originally installed in the Haitian National Palace.
Two other works of fine art, the sculpture "Girl in Red Stockings" and a sculpture of a flapper by Demetre H. Chiparus, joined Barthe's plaster bust as the three highest selling lots of the auction, fetching $6,435.00 and $3,900.00 respectively.
The auction also featured a number of two-dimensional works by renowned artists. Among the top lots were works by David Hockney, Adolf Fleischmann, Peter Max and Anna Hills. The colorful Hockney print, entitled "My Mother and the Parrot," features a doubling of the mother and parrot pair, first in primary colors and then below in black and white. Originally estimated at $1,500.00 to $2,500.00, the intriguing print ultimately sold for $3,900.00. Another Hockney piece, a 16.5" x 18.5" etching of a dachshund sleeping also sold above asking price. The lively lines of the etching attentively capture the scuttling energy of the small dog pictured at a rare moment of rest. This skillful work was of interest to a number of bidders, including one customer phoning in from over seas. The dachshund fetched $3,510.00 at the close of bidding.
The Fleischmann piece captured the German abstract artist's signature use of rhythmic horizontals and verticals. Fleischamann's ouvre, of which the piece offered at Kaminski Auctions is a quintessential example, provided the foundation for the development of the popular Op Art movement in later years. Bidders at Kaminski recognized the value of this influential work, and the painting sold above the $2,500.00 asking price, for $3,390.00. Peter Max's mixed media piece from "The 911 Series" entitled "Land of the Free, Home of the Brave" brought a similar price, selling for $2,925.00. The brilliantly vibrant and busy piece reflected the artist's iconic "psychedelic sixties" style.
A painting by Anna Hills depicting a colorfully impressionistic coastal scene from Monterey, California also sold well. Hills was not only an important early American impressionist, but also foundational member of the Laguna Beach artist community, responsible for the creation of the Laguna Beach Art Museum. Her small work from around 1920 sold for $3,159.00. A 16.5" x 18.5" etching of a dachshund sleeping, although indistinctly signed, also sold above asking price.
A number of lots of fine wooden furniture, crafted by the famous American maker Thomas Moser garnered significant interest. The rapidly placed bids coming in from the phone lines, online bidding platforms, and from the audience provided an exciting competition for these items, and the prices went well above estimated. Among the high selling Moser pieces were a three-drawer chest, sold for $1,440.00 and an armchair with leather cushions for $1,989.00.
In addition to the fine solid wood furniture made by Moser, the twentieth century auction also featured a pair of LC2 petit modele two-seat sofas, one selling for $2,106.00, and the other for $1,638.00. An antique leather button tufted club sofa, from the 1930/40s was also among the highest selling lots of the day. With a number of determined bidders interested, the sofa ultimately sold for over one thousand dollars above the estimated price. The handsome leather sofa was finally hammered down at $3,276.00.
The 20th Century Decorative Art and Design Auction offered excellent examples of the finest quality paintings, prints, decorative objects, and furniture from the century. With close to two hundred phone and absentee bids competing with a highly interested audience on the floor and active online participation, bidding was strong and competitive for this well anticipated sale.
Kaminski Auctions, located on the North Shore of Boston, has been serving the New England antiques market for over 25 years as a full service auction house and appraisal service for fine art, antiques and estates.
With two locations in Beverly, Massachusetts, including a new state of the art auction gallery located at 117 Elliott Street, and a historic 1850's barn and office facility at 564 Cabot Street, Kaminski Auctions hosts 25 auctions a year.
In today's highly competitive market of fine art and antiques, Kaminski Auctions provides its customers with bicoastal services and marketing with west coast offices in Beverly Hills and San Diego, California.
Kaminski Auctions offers specialty departments in Asian Art and Antiques, Silver, Glass and Lamps, Couture and Vintage Clothing, Photography and Modern Design . We have highly trained and knowledgable appraisers on staff that will help you determine the true value of your antiques, or entire collections. Free Appraisal days are offered every Tuesday from 10:00am-4:30pm at our 564 Cabot Street location in Beverly, Massachusetts & our 5171 Santa Fe Street location in San Diego, California. We welcome emailed photos of your items!
Contact Harry Morgan - hmorgan(at)kaminskiauctions(dot)com