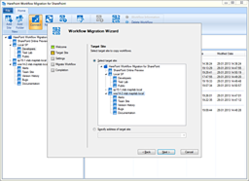 (PRWEB) February 04, 2013
Workflows are a critical part of any SharePoint environment today, providing the underpinning for smooth operations and for the teamwork essential to any organization.
In most cases, a workflow is created according to the following steps: goals are defined and the process is planned from start to finish; the workflow is created in a test environment; and then the accuracy of the workflow's model is confirmed for reliability and for proper completion of the goals defined. When this testing is completed, the workflow is transferred to the production environment where it will be used from that point on.
But a surprising problem arises here: there is no practical tool for the migration of a completed workflow from a test environment to the production environment. Most often, the migration process – and this is a real headache for SharePoint administrators – involves exporting the workflow from the test environment into the production environment (choosing some adequate method of export), and then spending a significant amount of time adapting the workflow's settings to the new environment. The administrator in this case is required to know all of the nuances of the workflow to complete this migration. Furthermore, there is the risk of failures and errors that can shut down the normal work of the SharePoint environment.
But these problems can be left in the past, now that HarePoint Workflow Migration for SharePoint has come to market. This is the ideal solution for simple, quick and error-free migration of even the most complex workflows from one SharePoint environment to another.
"We have long been in contact with developers from all kinds of companies who have to migrate workflows to the production farm with Notepad and a prayer. This solution is great – it makes people happy! Our product not only supports migration of workflows between sites and farms, but is capable of saving them in a file for complete, automatic deployment in a different site. Custom solution providers and integrators today are dancing the can-can with us!" said Alexander Gorlach, Director of Strategic Development at HarePoint.
HarePoint Workflow Migration provides a full set of outstanding features for workflow migration in SharePoint, but the most important ones are: the ability to copy or move SharePoint workflows between any SharePoint sites and between different versions of SharePoint (2010 and 2013); migration of multiple workflows; and the elimination of post-migration configuration of workflows in most cases.
Detailed information about the product and a free trial are available at the HarePoint Workflow Migration home page.