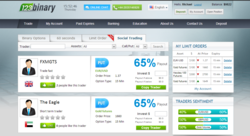 The ground-breaking feature will allow the binary options industry to grow even faster.
London, Tel Aviv, Limassol (PRWEB) February 02, 2013
O-Systems, a binary options platform provider, made an announcement today regarding a successful completion of beta-testing of an exciting new feature: Social Binary Trading. The idea behind the development is to incorporate the popular Social Trading concept, which gained hundreds of thousands of followers since its introduction into Forex trading a few years ago, into another quickly developing trading niche, the Binary Options.
Binary Options was once considered as the next big thing in trading. That time has long gone – Binary Options trading is not a future anymore, it is a present. Millions of people all over the world have chosen to become binary traders and billions of transactions are completed every day. The simplicity of the system, the excitement of trading and quick turnaround time have all contributed to Binary Options becoming one of the major trading instruments among amateurs and professional traders.
According to O-Systems Founder and General Manager Haim Lagziel, the ground-breaking feature will allow the binary options industry to grow even faster than before. With the ability to follow other traders, entering the world of Binary is even easier than before. Social Binary will allow the user to see the transactions of other traders, including the option to immediately "copy" it, i.e. close to the same deal. This option will be available for both "live orders" and for "limit orders" that trade become active only once the asset reaches certain predefined price level. The system will store and present a comprehensive data analysis for each trader, including his gains, profit/loss ratio and followers. In addition 10 top traders will be highlighted, based on their performance, which is determined by a complex formula that includes a large number of variables.
The O-Systems Social Binary in definitely a major breakthrough and represents an edge over tense competition. But it is obviously only a matter of time for other players in to pick up the challenge and come up with there "Social Trading" product for their customer. Either way, Binary Options market is sure to benefit largely form the new feature.
About O-Systems:
O-Systems is a leading binary options platforms and software provider company that have brought together high end experts in the financial arena. The company staff consists of professional traders and dealers, trading room managers and distinguished management and technology specialists. O-systems offers a variety of products serving as a gateway for brokers and affiliates that wish to exploit the benefits of presenting the binary options trading to their customers.