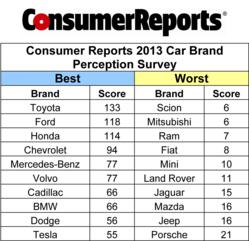 The data shows that it has become harder for companies to compete for share of mind. Consumers are not seeing as much differentiation between brands as they have in the past.
YONKERS, N.Y. (PRWEB) February 01, 2013
While the competition has grown even tighter, Americans again rank Toyota, Ford, and Honda the best overall brands in the annual Consumer Reports Car-Brand Perception Survey.
This year, Toyota has a 15-point advantage with its 133-point overall brand perception score over second-ranked Ford. Toyota's brand awareness scores have been see-sawing. They were high in 2010, dropped for a while amid safety concerns and recalls, and are now edging back up again.
Ford remains in a solid second-place (118 points). Third-place Honda jumped 26 points to 114 points, closing much of Ford's lead. The top six brands overall finished in the same rank order as in 2012.
Based on data collected from a random, nationally representative survey, Consumer Reports Brand Perception scores reflect how consumers perceive each brand in seven categories: quality, safety, value, performance, design/style, technology/innovation, and environmentally friendly/green. Combining those factors gives Consumer Reports the total brand-perception score.
While the scores reflect a brand's image in consumers' minds, they do not reflect the actual qualities of any brand's vehicles.
The full report and extensive analysis are available free at ConsumerReports.org on January 31 Updated daily, ConsumerReports.org is the go-to website for the latest auto reviews, product news, blogs on breaking news and car buying information. Check out CR's ongoing Twitter feed at @CRCars.
"This past year brought stability and increased sales to much of the automotive industry. Yet, the brand awareness scores for some like BMW, Buick and Hyundai have declined," said Jeff Bartlett, deputy auto editor online, Consumer Reports. "The data shows that it has become harder for companies to compete for share of mind. Consumers are not seeing as much differentiation between brands as they have in the past."
Quality and safety remain the top two car buying factors for consumers, followed closely by value and performance. CR's surveys show consumers still have a genuine interest in environmental aspects, but for many consumers, the green in the wallet drives more purchasing decisions.
In looking at how the brands rank among consumers, it is clear that it takes more than a single ad campaign or new product for most brands to connect with consumers and earn their favor. The rare exception is Tesla, a small, electric-car builder that has garnered awards for its new Model S sedan and made a notable splash in this latest survey. Tesla made the Top 10 list last year with an overall 42-point score, and this year, it again holds the 10th spot with a higher 55 points.
Dodge broke into the top-ten brand list this year, jumping up 23 points to knock Lexus off the list. Dodge scored 56 overall, compared with Lexus' 50-point score. Dodge did not score at the top of any one category in the survey. Instead, Dodge amassed modest gains in numerous categories. The better showing came even as Dodge's parent Chrysler Corp. separated the Ram truck group from Dodge. Chrysler's strongest categories were performance (14 points) and design/style (13 points), with the weakest showing being environmentally friendly/green (3 points).
How the scores were calculated:
The Consumer Reports National Research Center conducted a random, nationwide telephone survey of 2,034 adults from Dec. 6-16, 2012, and collected survey data from 1,764 adults in households that had at least one car.
Overall brand perception is an index calculated as the total number of times that a particular make was mentioned as exemplar across all seven categories, weighted by factor importance, and divided by the total unaided awareness of the brand. (Interview subjects were asked what brands exemplified the traits, instead of being read a list of brands.) That approach compensates for awareness level, ensuring that every brand has an equal chance of leading a category, not just the best-selling or most well-known brands. Category scores reflect the number of times that the particular make was mentioned as an exemplar of the particular attribute, again corrected for awareness.
Consumer Reports is the world's largest independent product-testing organization. Using its more than 50 labs, auto test center, and survey research center, the nonprofit rates thousands of products and services annually. Founded in 1936, Consumer Reports has over 8 million subscribers to its magazine, website and other publications. Its advocacy division, Consumers Union, works for health reform, food and product safety, financial reform, and other consumer issues in Washington, D.C., the states, and in the marketplace.
The full report and deeper analysis will be available at ConsumerReports.org on January 31.
— 30 —
JANUARY 2013
© 2013 Consumer Reports. The material above is intended for legitimate news entities only; it may not be used for advertising or promotional purposes. Consumer Reports® is an expert, independent nonprofit organization whose mission is to work for a fair, just, and safe marketplace for all consumers and to empower consumers to protect themselves. We accept no advertising and pay for all the products we test. We are not beholden to any commercial interest. Our income is derived from the sale of Consumer Reports®, ConsumerReports.org® and our other publications and information products, services, fees, and noncommercial contributions and grants. Our Ratings and reports are intended solely for the use of our readers. Neither the Ratings nor the reports may be used in advertising or for any other commercial purpose without our permission. Consumer Reports will take all steps open to it to prevent commercial use of its materials, its name, or the name of Consumer Reports®.