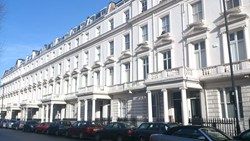 A dwelling and the local area make a London home
London, United Kingdom (PRWEB UK) 4 February 2013
The London population is estimated to grow by over 200,000 every year according to the Greater London Authority. To tackle the housing shortage in London the government is encouraging the much needed new developments in private and state sectors. In London there are around 170,000 homes in the planning pipe line, with the largest number in inner east London boroughs of Greenwich, Tower Hamlet and Newham.
'High housing costs are seen as a disadvantage to living in London and yet the population continues to increase every year' said Rozi Bani-Ameri founder of Easy Relocation (exclusive).
The majority of London properties are old and have undergone some major renovation scheme or some degree of interior update for marketability. By law the exterior and original architecture and material of buildings have to be preserved. Irrespective of old and emerging new constructions, the dominating factors for making an important decision about any property in London remain the same.
When making important decisions like choosing a property, it is important to allow for compromises specially when there are more than one party involved. Easy Relocation (exclusive) offer the following guideline designed to lay out the fundamental and important aspects requiring specific attention when considering a property and making comparisons:
Property Location and Environmental Condition;
Local amenities; shops, cafés, restaurant and bars, library and health care
Public transport (distance from the property and ease of commute to work and school)
Local parks and green space
Local community , neighbourhood and safety (a local crime rate can now be obtained)
Block of flats (maisonettes or apartments) or a house (including bungalows)
Use of a lift (type of lift - age and function) or stairs
Situation of the property (close to a main road, traffic and noise pollution)
Availability of private or public Parking space for personal and social use
Property Condition and safety;
Damp / condensation proof construction
Gas and electricity (preferably certified)
Type of heating installation
Insulation
Water pipes (age, in particular the bathrooms)
Fittings, fixtures and paint
Windows and floor boards
Roof health check in a house, or , at a top floor flat in a block
Basement and Ground floor windows and fitted iron bars (modern or old)
Property features and advantages;
Square foot value; size and Price
Space and potential to create larger or extra space
Light
Storage space
View to outdoor space or overlooked by other properties
Balcony or a patio and garden
At Easy Relocation (exclusive) we wish you a very happy move.
PO Box 66446
Maida Vale
London W9 4EJ
+44 (0) 20 7286 5249
For more information about Easy Relocation's services for your business or personal needs, visit http://www.easyrelocation.co.uk and join us on Facebook and Twitter for the latest news and tips on London relocation.
About Easy Relocation:
Established in May 2012, Easy Relocation (exclusive) offers affordable and comprehensive relocation assistance and home search to companies and individuals moving to the UK and moving to London. Unlike other UK estate agents, at Easy Relocation we hold no business commitments with third parties or letting agencies. This gives us flexibility to conduct personalized, attentive and wide ranging property searches tailored to each client's budget, needs and taste.