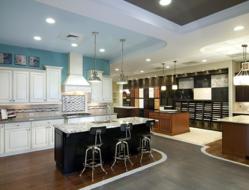 Our customers have enjoyed our new Design Studio immensely.
Charlotte, N.C. (PRWEB) February 02, 2013
Shea Homes in Charlotte took home a Silver Award for their new Design Studio at The Nationals 2013 event in Las Vegas. This event was presented by the NAHB National Sales and Marketing Council, and was the culmination of much hard work by new home builders across the country.
Shea Homes opened its new design center in south Charlotte in late 2012. It is spacious, with over 3,000 square feet dedicated to showcasing all the options customers have in personalizing their home. Sliding style guides help the customer visualize packages together, as they tour four kitchens, a luxurious master bath, fireplace nook, and even a built-ins gallery. An expansive flooring gallery showcases over 100 samples of carpet, hardwood and tile, with the exteriors gallery displaying all colors of brick and siding options.
Michele Scott, Director of Sales and Marketing, says, "We are excited to have won a Silver Award at The Nationals this year. Our team of employees and TradePartners put so much time and effort into completing this design center and our customers have enjoyed it immensely. Our Grand Opening events with prospective customers and local real estate agents were very successful."
For a preview of the new design studio, please visit the Shea Homes' Carolinas design studio website. For a complete list of winners, please visit http://www.thenationals.com.
About Shea Homes
Shea Homes Charlotte is a division of Shea Homes Limited Partnership, an independent member of the Shea family of companies; Shea Homes is the oldest family‐owned homebuilder in the United States. Shea Homes builds new homes in California, Arizona, Nevada, Colorado, Washington, North Carolina, South Carolina and Florida. With choices to suit homeowners in every stage of life, Shea Homes offers new homes ranging from affordably priced condominiums to traditional single-family detached homes and magnificent luxury residences. Shea Homes is proud to be named a J.D. Power 2012 Customer Service Champion and is only one of 50 companies so named in the U.S. For more information about Shea Homes and its communities, please visit the company's website at http://www.SheaHomes.com.