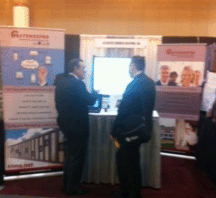 "Each year we look forward to exhibiting at the Club Business Expo," said Peter Dehlinger, President, Gatekeeper Business Solutions, Inc
Deerfield Beach, Fla. (PRWEB) February 02, 2013
CMAA's World Conference and Business Expo to be held February 7th – February 11th, 2013 will provide a variety of unique educational opportunities that reflect the latest trends in the club industry. This week-long series of education features pre-conference workshops, seminars, management clinics, round-table discussions, student programs and keynote addresses by distinguished speakers. CMAA members truly profit from the variety of opportunities available at the World Conference and the many hands-on topics that can be easily put into practice back at their clubs.
Gatekeeper Business Solutions will promote their time & attendance software solution at the Club Business Expo February 8th – February 9th in Booth #311. The booth will display labor management software tools including time and attendance, integrated payroll, scheduling, accruals and data collection devices.
"Each year we look forward to exhibiting at the Club Business Expo," said Peter Dehlinger, President, Gatekeeper Business Solutions, Inc. "The CMAA expo is an excellent venue to directly connect with our clients and prospects, and to showcase our web enabled, .net labor management system with time & attendance and payroll. This hosted platform provides Clubs access to the industry leading software and biometric hardware to control labor costs."
Gatekeeper Business Solutions offers a user friendly, web enabled payroll software application (lms.net) that creates measureable savings in labor costs, improves administrative productivity and increases revenue. Gatekeeper is also a leading provider of multiple data collection devices including labor saving biometric clocks and a Work Time application for PC terminals allowing for ease of data input into a labor management system.
About Gatekeeper Business Solutions, Inc.
Gatekeeper Business Solutions, Inc., a labor management systems company, offers a proprietary suite of software tools (LMS) that includes time and attendance, scheduling, and integrated payroll software, for midlevel private and public sector companies. The company has provided a broad range of technology based solutions to manage labor costs to clients nationally. For more information, please visit the company's web site at http://www.gatekeepersolutions.com.