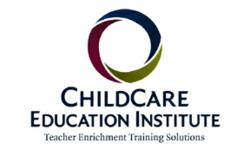 We have the opportunity to improve the long-term health of children.
Duluth, GA (PRWEB) February 01, 2013
ChildCare Education Institute (CCEI), an online child care training institution, offers the trial course CCEI121: Motor Development and Physical Fitness in Early Childhood at no cost in February to provide new users the opportunity to try quality, online child care training in recognition of American Heart Month.
As our nation continues to struggle with high obesity rates and heart disease remains a leading cause of death annually, we cannot stress enough the importance of instilling healthy fitness habits in early child care programs. While some contributors to heart disease, such as genetics, cannot be avoided, a variety of risk factors can be combated with proper nutrition and fitness choices. Motor development also needs to be taught at any early age to aid children as they learn to walk, dress, grasp, and feed themselves. This course provides an understanding of the importance of motor development and physical fitness in the early childhood years and the ways in which they can become part of the curriculum. Participants will be able to define physical fitness as it applies to young children, identify five health related fitness factors, physical activity recommendations for young children and fundamental motor skills. Upon successful completion of the course, students will earn 0.1 IACET CEU and receive access to their Certificate of Completion for documentation.
"Including the course mentioned here, child care practitioners have a variety of resources to assist with overturning our nation's alarming rates of heart disease," says Maria C. Taylor, President and CEO of CCEI. "With the promotion of motor development and physical fitness, we have the opportunity to improve the long-term health of children."
CCEI121 is available to new users as a trial course awarded upon CCEI account creation during February. Account holders without an active, annual professional development individual or center-based training subscription may purchase courses through online enrollment now.
About CCEI
ChildCare Education Institute provides affordable, online professional development courses and programs for educators in a range of child care settings, including family child care, preschool centers, prekindergarten, nanny care, and more. Over 100 English and Spanish child care courses are available to meet licensing, recognition program, and Head Start requirements for training online. Additionally, CCEI offers online certificate programs, such as the Online Child Development Associate (CDA), Online Director Credentials, Early Childhood Credential, and more. CCEI is accredited by the Accrediting Commission of the Distance Education and Training Council (DETC), approved by the International Association for Continuing Education and Training to award IACET Continuing Education Units (CEUs), and authorized under the Nonpublic Postsecondary Educational Institutions Act of 1990, license number 837.
For more information, visit http://www.cceionline.edu or call 1.800.499.9907.