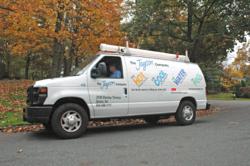 "The Jayson Company truly is a family-run businesses. I'm so pleased to be recognized. This award shows we really do care about every single job, and we try to treat every one of our customers like they are family."- BJ Reisberg, VP, The Jayson Company
Union, New Jersey (PRWEB) February 05, 2013
The Jayson Company , a provider of heating, cooling, water treatment and pool service to New Jersey home and business owners for more than 75 years, has earned the coveted 2012 Angie's List Super Service Award.
This honor is bestowed annually to companies who have achieved and maintained a superior service rating on Angie's List, the nation's leading provider of consumer reviews on local service companies. The grading criteria for home service professionals used by members that contributed to this award involved price, quality, responsiveness, punctuality and professionalism. Fewer than 5 percent of the companies on Angie's List meet the requirements to be considered for the award.
Testimonials
"We have been using Jayson since 2004. Always punctual, courteous and professional – from making appointments over the phone to delivery. Highly recommend them."
"The service has been great overall! It's [The Jayson Company] family-run and they've been in business for years. We interviewed a few other companies, and we were very pleased with them [The Jayson Company]. They've been wonderful!"
"This [The Jayson Company] is a very professional company! I've done business with them for a very long time. I've been pleased with their pricing, and it's been a good experience overall."
Founded in 1936, The Jayson Company is a third generation family owned and operated business and a recognized leader in providing highly efficient heating and cooling systems, water softeners, drinking water treatment systems including reverse osmosis water purification and in-ground pool and spa service for New Jersey homes and businesses. The Jayson Company also provides heating oil delivery throughout their service area and is the only Anthony & Sylvan authorized service representative in central and northern New Jersey for swimming pool maintenance and repair.
For more information about services provided by The Jayson Company, and to schedule service, call 1-800-562-2777, or visit http://www.jaysoncompany.com.
About The Jayson Company:
Founded by Cornelius Jayson in 1936, the Jayson Company is owned and operated by the third generation of the Jayson family. The Jayson Company grew to become one of the largest water conditioning, heating and air conditioning, fuel oil delivery and pool service companies in the state, and now serves all of Central and Northern New Jersey. Home owners and business owners depend on The Jayson Company every day for oil and gas heating systems, heating oil delivery, air conditioning systems, water softening, drinking water filtration, bottleless water coolers, and Anthony & Sylvan authorized pool service. They know they can depend on Jayson professionals at any time to do the job right and that there is a long-standing family reputation behind all the work. As the company slogan says, "Our family name is riding on every job."