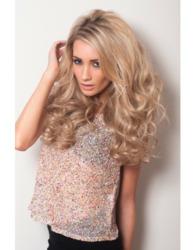 Big hair is back, with celebs leading the way in this fab hair fashion. Getting the look couldn't be simpler, favoured by celebrities, a half wig will give your hair a boost and is quick and easy to fit"
London (PRWEB UK) 4 February 2013
It has been making a come back for the last few years, but 2013 is officially the year of 'big hair' according to hair experts Wonderland Wigs. Cheryl Cole was once allegedly advised by pop superstar, Simon Cowell to "drop the big hair", but now it seems her persistence has paid off and she is now a leading lady in the hair fashion stakes! Achieving big hair has been tricky to achieve in the past and can be damaging to the hair, but with a few tips and tricks from Wonderland Wigs 'Big Hair Guru', Sam McClements, it is now easy to go BIG like just like the celebs.
So, who's rocking big hair at the moment? Well, aside from the uber glamorous Cheryl Cole, there's Eva Longoria, Sarah Jessica Parker, Cameron Diaz, Beyonce, and the entire TOWIE cast to name but a few. 2013 really is the year for big hair, and here are a few tricks to achieving this look.
1. The Half Wig- also known as the Instant Weave or 3/4 Wig.
They sit a few inches back from the hair line towards the back of the head and blend seamlessly with the persons own hair giving instantly big hair. Secured with flexi combs, they are quick and easy to fit and are affordable at approximately £25.99 for a synthetic half wig. Amy Childs and Katie Price are known to be huge fans of them and it has also been rumoured that the A-list Queen herself, Victoria Beckham likes to wear a half wig when she wants to go for extra length and volume.
2.Sleep In Rollers
The amazing invention of sleep in rollers, means that it is possible to get a good nights sleep AND wake up with amazing hair in the morning - think lots of volume ladies! They give the hair a boost from the roots and have fast become a staple in many celebrity stylists bag of tricks, with celebrity stylist Lino Carboseiro saying " OK, i absolutely love sleep in rollers... I will be using them on my clients for sure."
A huge favorite with the TOWIE cast, other celebrities known to use sleep in rollers to boost up their volume include Sheree Murphy, Stacy Solomon, Arlene Phillips, WAG Danielle O'Hara and Chantelle Houghton. They are available from £16.99.
3. Extensions, extensions, extensions
Hair extensions are hardly a new kid on the block, and there is good reason for that, they are without doubt a great hair secret that women have been using for years. Clip in hair extensions are excellent for instantly boosting volume and adding length, without needing to spend a fortune, or take a trip to the salon. Available online from approx.£17.99 for a good set of synthetic extensions, they can be matched perfectly to the natural hair colour to give an instant result.
Wonderland Wigs owner and resident 'Big Hair Guru', says "Without doubt Big hair is back and with these 3 products any girl can achieve amazing volumous hair with minimal effort or expensive. My personal favorite is the instant weave or half wig, they are so versatile and just so simple, if you are trying to get big hair then a half wig would be my number 1 recommendation, what's more no one will even be able to tell you are wearing it!"
Wonderland Wigs is a leading retailer of celebrity and fashion led wigs, hairpieces, extensions and hair accessories. Based in the UK, with the aim of giving every girl the 'great hair she deserves', Wonderland offer something for everyone and are favored by a host of celebrities across the world. http://www.WonderlandWigs.com