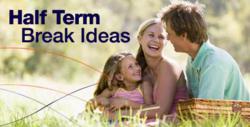 (PRWEB UK) 4 February 2013
Superbreak, the UK's leading short breaks provider, has reported a 43% year-on-year online revenue growth for its popular theme park and attraction breaks over February half term 2013.
Online booking trends for arrivals over the 2013 half term week are encouraging, with theme park and attraction breaks already showing online revenue growth of +43% year on year. Both the 'Warner Bros. Studio Tour - the Making of Harry Potter' and the newly opened 'The View from the Shard' dominating the most popular breaks for half term this year, which differs from last year's booking trends which showed more preference toward family theatre shows, such as the Lion King musical, Shrek the Musical and Wicked.
Visits to the company's dedicated half term breaks page have also increased by +34% in the last month versus last year as the company's product portfolio continues to expand. Similar to 2012, city breaks continue to be the destinations of choice amongst Superbreak customers, as many take advantage of the firms' 2 night return rail breaks and dinner, bed & breakfast deals and range of budget mystery hotels. However, attraction and theme park breaks continue to generate the most interest as many of the UK theme parks re-open with dedicated half term events, such as Thorpe Park's Ultimate Thrill Chill Week and Alton Towers Moshi Monsters Event.
Furthermore, the introduction of flight inclusive city breaks and Eurostar to the short breaks programme has enabled the company to really enhance their European product offering, with online sales to Paris, Bruges and Amsterdam reporting annual growth for half term week arrivals this year. Online sales for Eurostar breaks are already up +13% versus last year with Paris city still proving to be the most popular destination of choice, whereas short city breaks to Paris, Barcelona, Prague and Lisbon are most popular with those opting for flight inclusive hotel packages.
Online Marketing Manager at Superbreak, Khalid Amin, commented: "In the run-up to February Half Term, The View from The Shard has really captured our customer's imagination generating healthy initial sales both online and through the call centre. Our brand new flight packages have also made European attractions more accessible than ever for Superbreak customers with almost 100 European attractions available over the half term break."
About Superbreak:
Superbreak is the internet division of Superbreak Mini Holidays Limited, the market leader for weekend breaks throughout the UK and beyond, from Manchester and London hotels to Paris and even Dubai. Superbreak is part of Holiday Break plc. Based in York, England, Superbreak specialises in booking city breaks in 2-5 star hotel accommodation throughout Britain for the leisure traveller. Superbreak also work with various travel providers offering a range of rail breaks, Eurostar Breaks to Europe, P&O mini cruise breaks, flights & more.
With 5000 plus hotel partners in worldwide locations from Manchester to Brighton, from London to Paris getaways and with great availability and rates for theatre breaks, events at the O2 Arena, Christmas Breaks, various popular attractions and national and international rail partners, Superbreak can offer an outstanding depth and breadth of UK and Overseas short break products.
Note to Editors
We authorise the republication of this content with the condition that a link to Superbreak is included: http://www.superbreak.com