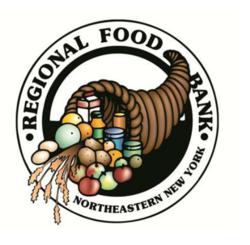 Albany, NY (PRWEB) February 01, 2013
It was a record-breaking year for the 2012 CDPHP® Holiday Appeal for the Regional Food Bank of Northeastern New York.
CDPHP, along with area businesses, organizations and individuals donated $34,033 to the appeal, which benefits the Food Bank's BackPack Program. The 2012 appeal brought in nearly $11,000 more than 2011.
The BackPack Program currently serves nearly 800 children in 32 schools across 10 counties – double the number of children served only a year ago. It provides nutritious, non-perishable food to children in grades K to 6 on Fridays to help feed them over the weekend. This was the 12th year that CDPHP has sponsored the program.
The CDPHP Holiday Appeal ran through the month of December, with CDPHP matching donations of $100 or more (up to $5,000) and contributing $5 for every new "like" on the Regional Food Bank's Facebook page (up to $5,000).
"We are thrilled by the outpouring of support for 2012 CDPHP Holiday Appeal and the Regional Food Bank of Northeastern New York," said John D. Bennett, MD, president and CEO, CDPHP. "Hundreds of area children will have access to healthy food on the weekend through the Food Bank's BackPack Program thanks to the generous donations."
"The CDPHP Holiday Appeal far exceeded our highest expectations this year," said Mark Quandt, executive director of the Regional Food Bank. "We thank CDPHP and all the businesses and individuals who supported the Appeal for making it possible for needy and vulnerable children in our communities to be properly nourished, grow, thrive, and be more productive in school. What a wonderful gift."
Organizations that participated in the 2012 CDPHP Holiday Appeal include:
A.E. Rosen Electrical Co.
Adirondack Cabling
Anchor Agency
Apollo Partners N.Y., Inc.
C.J. Heilig Foundation, Inc.
CapBen Consulting
CapitalCare Medical Group
German American Club of Albany, Inc.
Good Shepherd Lutheran Church
Human Arc Corporation
Northeast Small Business Group
NYS Teachers' Retirement System
Park Outdoor Advertising of N.Y., Inc.
Schenectady Federation of Teachers
Taconic Foundation
The Adirondack Trust Company
About CDPHP®
Established in 1984, CDPHP is a physician-founded, member-focused and community-based not-for-profit health plan that offers high-quality affordable health insurance plans to members in 24 counties throughout New York. CDPHP is also on Facebook, Twitter, and LinkedIn.
About the Regional Food Bank of Northeastern New York
The Regional Food Bank has been helping to feed the poor and hungry in our communities since 1982. It is the only organization of its kind in northeastern New York. The Food Bank collects large donations of food from the food industry and distributes it to charitable agencies serving hungry and disadvantaged people in 23 counties.