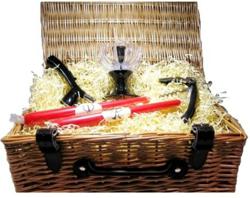 the perfect gift to celebrate the most romantic night of the year
(PRWEB UK) 1 February 2013
With January at an end and giving way to February, it is without doubt Valentine's Day that makes it such a special month to so many people in the world.
February 14th is the perfect opportunity to tell someone how special they are. Whilst many would be forgiven for feeling slightly daunted by the challenge of finding the perfect gift for their sweetheart, help is on hand and online.
WineWeaver is pleased to announce the launch of their new Valentine's Gift Hamper which is equally suitable for men and women. WineWeaver also offer a bespoke service in addition to this delightful and specially chosen Black Velvet Wine & Dine Valentine's Gift Hamper.
This carefully pre-selected hamper is perfect for those who love wine and food as it is a perfect mix of luxuriously stylish wine and dining orientated accessory gifts. What better way to treat that special someone than with a surprise hamper delivered direct to their door?
Each of these hampers is specially picked and packed to order and contain a unique mix of items that are beautifully presented in a stylish wicker basket and topped with hand-tied ribbon and a gift tag.
Founding Partner of WineWeaver, Patricia Robertson says, "with the Black Velvet WineWeaver having proved itself to be the most popular and elegant of our wine aerator range, we wanted to combine it with something really special that people could enjoy whilst dining with their loved one."
The team thought of a romantic dinner and combined the WineWeaver's best-selling Black Velvet wine aerator and a matching black waiter's friend style corkscrew with VacuVin's all-in-one luxury Lighter and Candle Snuffer and a pair of tapered red dining candles from Price's to complete the ensemble. For those who love a little royal connection, Price's has been a selected supplier of candles to Her Majesty the Queen Elizabeth II and the Royal Family since 1840 and in the year of a Royal baby WineWeaver are thrilled to include it in this very special hamper.
As if that wasn't enough WineWeaver are able to add a personal message from one lover to another when ordering. It is simple to add that short private note and the team at WineWeaver handwrite each special message personally. No machines on harsh card, makes this a truly personal message in the digital age.
Is there nothing more romantic than the beauty and elegance created through sharing a candlelight dinner with a loved one? Better still capture it on camera and enter WineWeaver's spring competition with that prize winning photo.
Ms Robertson also explained that one of WineWeaver's main aims for Valentine's Day is to "take out the hassle of finding a new and more unusual gift at the same time as finding the perfect gift to share over dinner on the night dedicated to the recognition of romance and love. Happy Valentine's everyone"
WineWeaver's full range of Gift Hampers can be found online for delivery worldwide at http://www.wineweaver.com
About WineWeaver:
WineWeaver are a small, committed and dynamic team who are truly passionate in their aim to raise the awareness of the advantages of enjoying aerated wine. Flavours, aromas and character are all heightened when a wine has the opportunity to breathe before serving which is why the WineWeaver wine aerator was designed.
The passion of the founding partners led them to design a new wine aerator to incorporate functionality and a visual design which is both sophisticated and stylish.
The WineWeaver® wine aerator blends unparalleled performance with a state-of-the-art design to deliver perfectly aerated wine direct to your wine glass or decanter.
Contact:
Patricia Robertson
contact[at]wineweaver[dot]com
Tel: 00-44-203-427-5928
http://www.wineweaver.com/
Head Office: 2.07 Second Floor, 83 Victoria Street, London, SW1H 0HW, United Kingdom
USA Office: 7 Wilton Crest, Wilton, Connecticut, CT 06897, United States