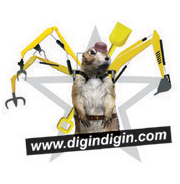 Lachine, QC (PRWEB) February 08, 2013
Dora Wang, the founder of Digindigin, has launched a brand new logo design company that can benefit designers as well as customers. Designers will have the option of being part of a dynamic designer community where they can share ideas, learn from other designers and be competitive in the field. Designers will be able to set up an account with digindigin through which they will be able to display their own unique and creative designs and get valuable input from other designers.
The site setup is such that designers will interact with others from the same trade and then compete against other talented designers. Clients will choose from among the many unique designs created by highly skilled designers who are competing. When a new logo design contest is launched, designers receive email notifications so that they can enter the competitions that they desire to try. Dora Wang believes that digindigin offers a profitable experience for designers who can earn extra money while learning more about their profession by working with others in the same profession.
Designers will find digindigin online at http://www.digindigin.com/graphic-design-jobs and can sign up to participate. But Ms. Wang also feels that the site is a great opportunity for customers as well. As designers offer various designs for their idea, the customer will have many choices and can ultimately choose the one that they like the most and best meets their needs. They have the opportunity to connect with designers who have offered an online resume for customers to view. It is a win-win situation for the logo designers as well as the customers.
About Dora Wang
Dora Wang offers private logo design services to her clientele. She saw the need for clients to be able to retain more reliable services and have more options available to them. Ms. Wang is a reliable logo design expert from Montreal who provides a personal and exciting way for clients to have a part in developing their personal or business logo. She is presently offering a way for designers to connect with others in their own field at http://www.digindigin.com/designers/new