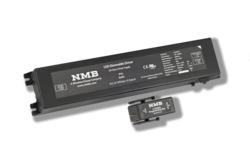 Our expertise in power supply, backlights and cooling products represent a total solution for the solid state and luminaire lighting market
Chatsworth, Calif. (PRWEB) February 01, 2013
Flexibility and a smart design mark the introduction of the new 22~40W LED Programmable driver from NMB. One single driver, designed to cover output currents of 700 to 2200 mA. A simple programming function that offers the user the ability to program the driver's output current, based on specific requirements of their application, a 0~10 low voltage dimming feature, as well as IP66 and comprehensive protection, all surround the new design.
The flexibility of this design is the ability to re-program the driver to adapt to changes in design requirements. Utilizing the practical programming kit (available separately), which includes a clip on programming unit and a USB cable, the desired output current levels can be easily preset or adjusted as your application develops. A simple online Windows based utility, accessible from NMB's web site, is available for one click programming, making this feature readily effective when designing or installing a complete space or maintaining an array of light sources. The designer or maintenance engineer has the ability to utilize the same programming kit to program as many drivers as necessary.
"This is another brilliant offering from NMB's lighting business unit. The programmable 22~40W LED driver is designed for retail, track lighting and high bay applications. Our LED driver products are introducing our OEM and distribution customers to NMB's quality and high volume manufacturing. Our proven expertise in power supply, backlights and cooling products represent a total solution for the solid state and luminaire lighting market," commented Jonae Wilson, lighting business unit manager for NMB.
This new 22~40W LED driver joins NMB's 10~20W driver as part of the CLSD programmable driver series. The complete series is available right now directly from Digi-Key, Newark and Arrow. For OEM engineering and design support contact NMB directly.
About NMB Technologies Corporation – NMB Technologies Corporation, a Minebea Group Company, is the world's largest manufacturer of miniature precision ball bearings and a volume leader in the design and manufacturing of precision electro-mechanical components, including cooling fans and blowers, precision small motors and mechanical bearing assemblies, as well as a total solutions supplier of backlight, and LED programmable drivers. NMB products can be found in the personal computing, networking, telecommunications, home entertainment, home electronics, and automotive, medical and industrial markets. For more information on NMB Technologies Corporation visit: http://www.nmbtc.com