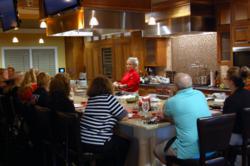 "We aim to create a unique, yet authentic, dining experience at H3 Healthy Kitchen." -Jen Welper, C.E.C.
Hilton Head, SC (PRWEB) February 01, 2013
A new, interactive culinary experience is coming to Hilton Head Island by way of H3 Healthy Kitchen, the full service kitchen and dining venue at Hilton Head Health (H3). H3 Healthy Kitchen has developed multi-course Chef's Table fine dining experiences featuring re-invented classics from around the world.
H3 Healthy Kitchen's themed Chef's Table dinners create an ambiance of authenticity through not only the menu and wine selection, but also the stories shared and music played throughout the evening—all while guests interact with the Chef as she prepares the meal before their eyes.
Menus range from the American Chop House all the way to New Zealand: Kiwi Experience and France: Sundays in Alsace, each including a feast of six-courses with wine pairings—all for under 700 calories (calorie count excludes wine).
How do they pack so much into each meal? Executive Chef Jen Welper, C.E.C, tests healthy recipes in the kitchen until each dish is perfectly portioned, plated and of course, flavored.
"We aim to create a unique, yet authentic, dining experience at H3 Healthy Kitchen," says Welper. "We research traditions from each country so our interpretation of every meal is true to the original but served in realistic, elegant portions."
The newest dinner menu added to the H3 Healthy Kitchen Chef's Table lineup is Italy: A Night in Umbria premiering on Valentine's Day, February 14th at 5:45 PM. The menu explores the richness of true Italian cuisine with a delicate Sea Bass Gremolata as the starring dish.
Along with Chef's Table fine dining, H3 Healthy Kitchen offers enology sessions, hands-on cooking classes and is the perfect venue for private events. For more information on H3 Healthy Kitchen offerings, call (843) 785-3919 or visit http://www.hhhealth.com/h3-healthy-kitchen.
About H3 Healthy Kitchen
In fall of 2011, Hilton Head Health weight loss spa proudly opened the doors to H3 Healthy Kitchen allowing program and non-program guests the opportunity to experience healthy gourmet dining in a warm and educational environment. H3 Healthy Kitchen is a full service kitchen accommodating those seeking an interactive fine dining experience, hands-on cooking class or an intimate private party venue. H3 Healthy Kitchen is consistently developing new flavors and adding menus to its schedule. View the H3 Healthy Kitchen calendar online at http://www.hhhealth.com/h3-healthy-kitchen or call (843) 785-3919 for more information.
Like H3 Healthy Kitchen on Facebook for special offers and healthy recipes.
About Hilton Head Health
For over 35 years, Hilton Head Health has been recognized as the premier weight loss and health retreat in the United States. Most recently, Hilton Head Health was featured on A&E's weight loss docudrama HEAVY, which aired in spring 2011. Voted as "Best for Weight Loss" for the past six consecutive years by SpaFinder and "Top 5 US Health Spas" by Lisa Drayer on the Today Show, Hilton Head Health is an exclusive resort delivering individualized experiences in the areas of Fitness, Nutrition and SELF (Stress management, Empowerment, Longevity, Fulfillment). For more information, please visit http://www.hhhealth.com or call 800-292-2440. Free health and fitness tips, as well as healthy recipes are available on the official H3 blog at http://www.h3daily.com. Become a part of the H3 Family by joining the conversation on Facebook and Twitter.