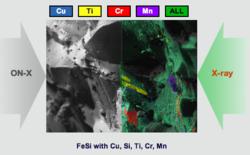 Vancouver, BC , Canada (PRWEB) February 01, 2013
January 31, 2012 – The Quartz ON-X Take Off Angle Detector sets the Quartz XOne EDX/EDS Microanalysis System apart from any other EDX/EDS system. Users can take advantage of the fact that for the first time they can acquire BSE images that are taken at the same viewing angle as their X-ray maps. ON-X Images always include both compositional and elemental contrast, adding unique image quality and perspective. As well, ON-X images provide an electron image with near perfect correlation to your X-ray maps. Now you can confirm if dark areas in your X-ray maps are due to topography-induced shadowing, rather than low element concentrations.
The installation of a Quartz XOne EDS/EDX System with ON-X mounted on the Silicon Drift Detector (SDD) electron trap does not require the use of an additional port, it shares the EDS/EDX port. ON-X also does not preclude the use of an annular Back Scatter Electron Detector (BSED).
The Quartz XOne X-ray Microanalysis System is compatible with most SEMs. The XOne System includes EDX/EDS software for all of your x-ray microanalysis needs and also includes much of the functionality of our industry leading PCI digital imaging software. The Quartz XOne System is a member of the Quartz PCI Family of Products and shares a common user interface with and is compatible with our popular Quartz PCI software.
About Quartz Imaging Corporation – Quartz Imaging has more than 2,000 customers in 38 countries utilizing our industry leading solutions for Digital Image Acquisition and Processing (for most image producing instruments including SEMs, TEMs, STEMs, Tabletop SEMs, Cameras, PC Based Instruments, Scanners); 21 CFR Part 11 Compliance; Laboratory Information Management Systems (LIMS); Failure Analysis Lab Systems (FA-LIMS); Instrument Access Control; Instrument Remote Control; Automated Inspection Systems for Nanotechnology; X-ray Microanalysis (EDX/EDS) Systems and more. http://www.quartzimaging.com