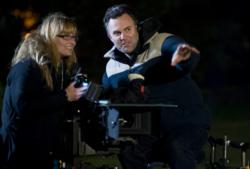 (PRWEB) February 04, 2013
Hollywood video production company, Seven Pictures, has teamed up with Oscar nominated director, Ian Barnes, to head the production of a high quality, cinematic corporate branding video. World renowned for their professional, cinematic quality productions, Seven Pictures has established themselves as a well respected film and video production company working with the highest qualified film production experts devoted to producing impressive and entertaining film and video productions that contain a cinematic look and feel.
Ian Barnes is a British director, producer and screenwriter whose film, Wish 143, was nominated at the 83rd Academy Awards for Best Live Action Short. Commissioned and produced together by Lighthouse and BBC Film Network, the short film was recognized at the highest level and featured famous actors including Jim Carter and Jodie Whittaker.
"Ian Barnes is an extremely gifted film director and his unique perspective will only add to our cinematic quality," says Asbjorn Christiansen, creative director at Seven Pictures. "We are raising the standards of corporate video production because we treat every production with the expertise and standards of film making to ensure the best production value."
Seven Pictures produces superior productions that present a clearer, elevated message in the best way possible way, establish emotional connection, engage viewers and create relationships, bring pride to employees, and tell the story of who the brand is and what they do that drives them. Seven Pictures' unique methods and professional film production experts use cutting edge equipment and classic cinematic video craftsmanship techniques for a more impressive and entertaining professional video production.
"A good corporate video is an experience where viewers are just in it," says Christiansen. "You understand and you listen to what was said, you remember it and you don't forget it. We live in a visual, fast-paced world where people demand entertainment and instant gratification. If a message fails to be communicated in a fast and powerful way, it is lost."
From beginning to end, they ensure the desired message comes across with only the highest quality deliverables that exceeds all expectations. From the colors to the warmth, Seven Pictures ensures that everything is instilled in each video along with the expertise of each leader featured.
About Seven Pictures
Seven Pictures takes a meticulous and disciplined approach toward video production. With over 20 years experience in the industry they specialize in creating cinematic quality product videos, corporate videos, training videos, and TV commercials with unparalleled craftsmanship. Seven Pictures is a pioneer who understands that a high quality video production is more than just point and shoot—it's about delivering visionary ideas and executing something spectacular.