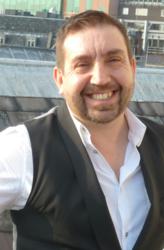 This is just the first of many amazing developments from Superstars in 2013!
London, UK (PRWEB UK) 1 February 2013
Superstars founder Stevie Hutson is pleased to announce the re-launch of the company website, HomeOfSuperstars.com. The site has expanded to include new sections for upcoming Events, more information about Superstar's dedicated team and a new service aimed at getting Talent the help and advice they need from the best in their fields - Mentors.
Mentors are exactly what they sound like - professionals with a wealth of experience who are willing to share advice with people who want to work in their sectors. Several talented and successful superstars have agreed to make themselves available to meet with Superstars' Talent and give them the kind of advice and support that can not be found anywhere else.
Talent can simply click on the Mentor they would like to meet and Superstars staff will make the necessary arrangements so they can get together. Mentors who have volunteered their time so far include Richard Ogley, Head of Digital at BSkyB and the founder of Kindred.HQ, Alex Butler.
Events lists upcoming events that Superstars' staff are attending or running throughout the year. Visitors to the site will be able to click through to find out further information and apply to attend where appropriate. The next twelve months will see a lot of activity in this section of the site with seminars, breakfast briefings and more as well as Steve Hutson's regular appearances on Colourful Radio.
Staff Profiles have also been given a makeover. Visitors can find out more about Superstars' dedicated team and read their bios. Contact details for individual staff members are found here and some staff will be leaving video messages about their work for visitors to watch.
The relaunch also includes several changes to the back-end of the site that will help our staff help more Talent to find the job that suits them and match more clients with the right Talent to help them achieve their goals.
"We are so excited about these features and we really hope they will improve the user experience and show off more of the services we can offer," said Steve. "This is just the first of many amazing developments from Superstars - stay tuned for more to come in 2013!".
Superstars is based on a unique new staffing model that eliminates fees and margins forever. Clients work with Talent Managers to get the best staff for their needs and the Talent get amazing opportunities and the best support and mentoring in the industry.
Superstars' clients include BSkyB, Orange Digital, Infosys and Radical Company with more being added all the time.
To find out more about Superstars' unique staffing model and how it can transform the way you hire staff, contact Steve Hutson - steve@homeofsuperstars.com or visit http://www.homeofsuperstars.com