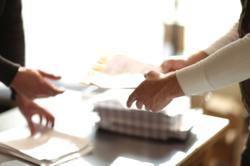 Obtaining the SOC 1 was just a natural progression. We wanted to reassure our clients that we are a leader in the industry.
Mokena, IL (PRWEB) February 01, 2013
On January 16, a former Nevada process server was sentenced to prison after being convicted on 17 counts of felony forgery after filing false affidavits in Las Vegas courts; the same man is also being investigated for new allegations of identity theft, mortgage fraud, insurance fraud and theft from a public utility. Court officials estimate the convicted process server's company potentially affected thousands of cases over a period of several years.
But this incident is just the latest to make national headlines.
Numerous incidents over the past several years involving process servers failing to execute their part of the process have congested and tainted the legal process across the country in the many arenas where process serving is critical, according to Firefly Legal, a national associate legal services company specializing in process serving.
As a result, strict regulations in the legal field are becoming a reality—especially in the foreclosure and collections industries. Compliance is now the task at hand for process servers who face increasing scrutiny by their legal clients and may incur fines or revoked licenses for missteps.
Sloppy process serving, better known as 'sewer service,' is a term used to describe a scenario in which a process server who is supposed to serve a defendant with a summons and complaint in accordance with the Civil Practice Law and Rules, discards the papers (in essence, serving them to the sewer) and falsely swears in an affidavit of service that the papers were properly served.
'Sewer service' deprives hundreds of thousands of people each year of their due process right to be heard before judgments are issued against them and can have devastating consequences.
Non service of legal papers isn't the only issue. Offenses including identify theft, forgery, false personation, preparing false evidence, and embezzlement also plague the industry.
Industry fraud has become so rampant that several states are enforcing new regulations including the use of global positioning systems (GPS) to verify process servers' locations; requiring process servers and process serving agencies to be bonded; requiring applicants for a process service license pass a qualifying exam; and holding process service companies accountable for the conduct of process servers they hire as employees or independent contractors.
Just last year the New York City Department of Consumer Affairs executed a year-long crackdown on process serving companies. Investigators issued violations to one in three of the city's more than 900 process servers for having reported work that didn't match their GPS-tracked whereabouts.
In January, debt collection agencies including process servers came under federal supervision for first time as the Consumer Financial Protection Bureau began monitoring and conducting examinations of companies' compliance and procedures.
Though not currently required, SOC 1 certification could soon be required for process servers who deliver foreclosure notices and other mortgage-related documents.
To preempt what appear to be inevitable changes, Firefly Legal recently reaffirmed its status as a leader in the industry by undergoing a voluntary audit and obtaining SOC 1 certification. The audit covers security measures, processing integrity, and confidentiality.
Matt Massa, Vice President of Firefly Legal, stated, "Though it [Soc 1] wasn't required, we felt it was necessary. We built our company on integrity, trust, and good client relationships. Obtaining the SOC 1 was just a natural progression. We wanted to reassure our clients that we are a leader in the industry, and we take security and confidentiality very seriously."
For more information about Firefly Legal, check out fireflylegal.com and stay in the loop by joining our online communities on Facebook at http://www.facebook.com/FireflyLegal and Twitter @fireflylegal.
About Firefly Legal:
Headquartered in Mokena, Illinois, Firefly Legal is a national associate legal services company specializing in process serving, skip traces, court filing, document retrieval, and loss mitigation. Be sure to check out Fireflylegal.com for more information.