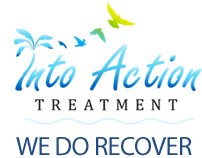 WE DO RECOVER
Boynton Beach,FL (PRWEB) February 08, 2013
There's a huge milestone this week in the treatment center industry in South Florida. It is the one year anniversary of a solution focused rehab, that offers a unique treatment model to addiction. It is called Into Action Treatment and they are a drug rehab that offers treatment for alcoholics and addicts of the hopeless variety, which have been unable to find lasting recovery from their addiction. For over a year, they have helped many addicts and alcoholics who have been in and out of treatment many times before, find a way out to a new and rewarding life.
Into Action Treatment is the only Big Book Step Study treatment center in the world offering the Hyannis format approach to recovery, which involves a thorough 12 step process, where the alcoholic or addict takes a long hard look at their life and for the first time they look at themselves. In fact, that many alcoholics and addicts go through the Big Book Step Study process after years of sobriety, which says a lot of the effectiveness of this model, and the ineffectiveness of other methods in use today. Andrey Rossin, the owner and founder of the center says, "This model is very direct and structured, because it must address the spiritual malady of the disease of addiction. It uses clear cut instructions and is done with the help of a sponsor, who has gone through the same process as it is laid out in the Big Book of Alcoholics Anonymous." The book was published in 1939 and it is how the first 100 alcoholics recovered years ago. "We do not try to reinvent the wheel-we provide the necessary exposure for our clients to go through the process. We only know that talking about the problem you won't ever be able to talk about the solution, and talk is cheap in recovery. That is why our center is called Into Action."
A very unique aspect of this center is that clients stay at Into Action based on the therapeutic necessity, not their ability to pay or insurance coverage. This is something new to the drug addiction industry, where if someone is willing to go through the treatment, they are welcome to stay, even long after insurance has stopped paying. "We strongly believe that the change must occur while in treatment and definitely go beyond the Florida Department of Children and Families requirement of client stabilization. We believe one can recover and have a vital Psychic Change while in the program. In the end our ultimate goal for the patient to leave different than the one that have arrived."
Add individualized treatment and only 24 beds, and you will see that Into Action is a personalized center with a true emphasis on long term recovery from addiction. In total they have four therapists and because of this, there are no clients flying under the radar or coasting through. They pride themselves on not being a hotel stay, like so many of the other 28 day rehabs in the industry. Their founder, Rossin, says, "Into Action is for Victors, not Victims!" Here's to many more years of celebration for the Into Action Treatment staff and clients.